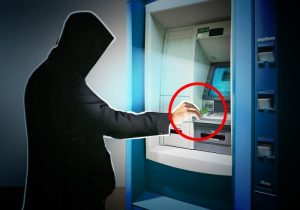 The Department of Justice announced charges have been filed against 18 crooks who have defrauded Americans out of millions of dollars by building and using skimming devices to steal money from bank accounts in at least 18 states.
The cool thing about the Justice Department press release is that we don't need a secret decoder ring to figure out where this latest bunch of foreign crooks are from—they have provided a handy chart to inform us!  Most are Romanians!
Here are a few snips from that press release:
18 Members Of International Fraud And Money Laundering Conspiracy Charged In Manhattan Federal Court
Geoffrey S. Berman, the United States Attorney for the Southern District of New York, William F. Sweeney Jr., the Assistant Director-in-Charge of the New York Office of the Federal Bureau of Investigation ("FBI"), Troy Miller, Director, Field Operations, New York, U.S. Customs and Border Protection ("CBP"), and James P. O'Neill, the Police Commissioner for the City of New York ("NYPD"), today announced the unsealing of an indictment and two superseding indictments charging 18 defendants with participating in an international conspiracy to commit a variety of offenses, including access device fraud, wire fraud, bank fraud, and aggravated identity theft.

[….]

FBI Assistant Director William F. Sweeney Jr. said: "An extremely frustrating thing to experience, you grab cash from an ATM but then find out your bank information was stolen and your account drained.

The scheme detailed here cost victims money, time, and effort to get their finances returned and their identities restored, which can be an infuriating long process. The FBI New York Cyber Crimes Task Force and our law enforcement partners have worked exhaustively to find the members of this criminal organization, and the arrests and charges are a testament to their hard work stopping these thieves from creating more havoc for anyone trying to access their hard-earned money."

[….]

[The crooks] participated in a transnational organization that engaged in what is colloquially referred to as "ATM skimming" (the "Skimming Organization"). The Skimming Organization unlawfully obtained victim account holders' debit card account information by using advanced technological devices to surreptitiously record the debit card numbers and personal identification numbers at automatic teller machines ("ATMs"), and then manufacturing counterfeit and fraudulent debit cards that bore the victim account holders' account information. The Skimming Organization's members then used those cards to fraudulently withdraw cash from victims' bank accounts.

[….]

The defendants carried out hundreds of ATM skimming operations across the U.S., including in New York and at least 17 other states. The scheme defrauded financial institutions and individual victims of more than $20 million.
Below is a screenshot of the first part of the DOJs chart. Is this what Open Borders Inc. might be referring to when they tout 'new American' entrepreneurs?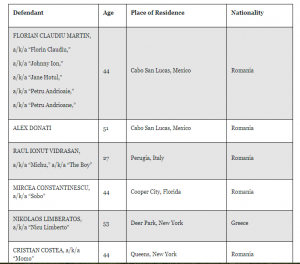 Go to the press release, here, for the whole list!