I promise this isn't a blog just for Nigerian scammers we 'welcomed' to America even if it seems that way sometimes!
Maybe we have a special visa I didn't know about to attract the best and brightest scammers in the world to ply their trade while living among us!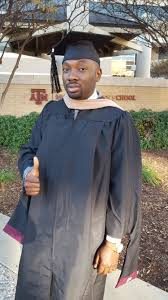 First thing I did after seeing the news from the US Justice Department about Nigerian national Olufolajimi Abegunde getting a six year sentence in the slammer (the taxpayers must now pay for!) was to see if there was a picture this time.
Well, what do you know there is!
Abegunde received an MBA from Texas A&M which gives us a clue that he came to the US on a student visa.
You will see below that he committed marriage fraud to stay—a common pathway for 'new American' wannabees.
The photo at right has been used widely around the world (not much US media coverage of his case), but Nigerian writers are promoting the propaganda that Abegunde was being racially profiled by the feds in Tennessee.
In January of this year, according to an African blogger, Abegunde is innocent and he was scapegoated by racist feds operating in racist Memphis, Tennessee:
Other updates to the saga also shows that a local judge in Memphis TN area, the city where he is being held, confirmed that Federal authorities around TN area act and prosecute based on racial bias.

Judge Fowlkes of Memphis TN confirmed this while trying a gun charge case.The case involved a white man who records say sold an undercover officer 100 ecstasy pills for $800, while his black partner stayed in the car with a gun.

Fowlkes asked why the white defendant wasn't slapped with the same gun charge as the black defendant since they worked together. The gun charge carres an automatic 5 year sentence just for the black person.

The above case shows that Olufolajimi's claims of racial mistreatment is valid and should be taken into account. His family wishes to draw the attention of current Presidential aspirants and other concerned Nigerians to look into this matter as Nigeria cannot continue to fold it's arms while it's citizens are mistreated on the basis of skin color.
Now have a look at the US Justice Department case against the pure-as-the-driven-snow Abegunde:
Nigerian Citizen Sentenced for Role in International Cyber-Fraud Scheme
Memphis, TN – A citizen of Nigeria residing in Atlanta, Georgia, was sentenced to 78 months in prison yesterday for his role in an international cyber fraud scheme….

[….]

Abegunde and Ramos-Alonso participated in a criminal organization in which members "spoofed" emails and created fake profiles on dating websites in order to fool victims into sending money to bogus bank accounts under the control of members of the conspiracy. The proceeds would be laundered and subsequently wired out of the United States to destinations including West Africa.

The organization as a whole is believed to have caused more than $10,000,000 in damage to United States citizens and businesses.

U.S. Attorney D. Michael Dunavant said: "Frauds perpetrated through the Internet cause significant financial harm to businesses and individuals in our District and throughout the United States. Because those committing Internet fraud involve foreign nationals and others who hide behind technology, the cases are difficult – but not impossible – to investigate. We will continue to deploy our resources to take on these difficult cases, and we are pleased to achieve justice for the victims in this case."
Read the details about how the crooks set up their cyber crimes, but below we see how Abegunde used marriage fraud to stay in the US once he finished 'studying' at Texas A & M.  You can't make this up!
The Justice Department continues…
In addition to his financial activities, Abegunde also engaged in a conspiracy to commit marriage fraud. Abegunde was married during his studies at Texas A&M, but divorced his wife in 2016 to marry a U.S. service member through whom he could obtain immigration and health care benefits and also open new bank accounts.

He continued to live with his first wife in Atlanta while his U.S. service member wife was deployed to South Korea.

While incarcerated and awaiting trial in the Western District of Tennessee, Abegunde continued his conspiratorial activities, trying to convince his fake spouse, who has since filed for divorce, to refuse to testify against him.

Abegunde is contesting the divorce from his fake spouse.

Abegunde also engaged in witness tampering by sending a self-written Motion to Dismiss bearing his former attorney's name and professional attestation. The evidence at trial established that Abegunde drafted and sent the motion, which his attorney expressly did not authorize, to his faux spouse in an effort to deceive her into not testifying against him.
Read it all here.
You wouldn't know it if you just watch cable news and read your local paper, but there are many, many fraud schemes (perpetrated by foreign nationals)  busted every day by the Trump Administration.  The President should be bragging about the crooks and criminals he is getting off the streets.
At each rally he should showcase some of the best cases his Justice Department has prosecuted.
Be sure to see my tag below for Nigeria!