This is not a joke!  A December UFC welterweight championship fight will feature the son of a Nigerian immigrant who happens to be serving a 15-year sentence for stealing from taxpayers through Medicare/Medicaid fraud.
Given an award by the Republican National Committee for "Businessman of the Year" during the Bush Administration for his "successful" ambulance companies, Muhammed Usman was sentenced to prison in 2012 for fraudulent billing practices at his two companies.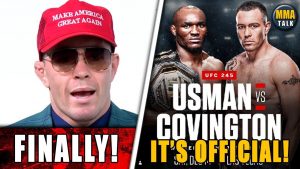 His son Kamaru "The Nigerian Nightmare" Usman faces the UFC's "Ultimate Villain" Colby Covington "a relentlessly vocal champion of President Donald Trump" in a December Ultimate Fighting Championship match up.
Here is some of the story  where the reporter gives details about Muhammed's scam and questions (or asks the reader to question) whether he deserves such a lengthy sentence when his partners in crime are Americans who got lesser sentences, and heck, after all they only fraudulently billed taxpayers for $3.6 million.
Regular readers will notice that again we are talking about Nigerian fraudsters who got into the US and we are never told how, through which legal program they gained access to the "American dream?"  Or was their entrance to the US illegal in the first place?
From The Body Lock:
(emphasis is mine)
The Nigerian-American Nightmare: The remarkable story of Kamaru Usman's father
No stranger to variety, the podcast of UFC commentator Joe Rogan, The Joe Rogan Experience, has been the launchpad for countless remarkable stories that span a gamut of topics from bowhunting, to artificial intelligence, to zany conspiracy theories, and everything in between.

One of the podcast's more fascinating discussions was provided by UFC welterweight champion Kamaru "The Nigerian Nightmare" Usman: during his appearance on the show, Usman made it known that his father, Muhammed Usman, was serving a 15-year sentence in a federal penitentiary for crimes Kamaru believes his father didn't commit.

Kamaru Usman's anecdote left the MMA [Mixed Martial Arts—ed]  fan base intrigued and perplexed; how was the fact that the father of the UFC welterweight champion was serving such a lengthy sentence just coming to light? What was the chain of events that led to Mr. Usman's incarceration? What did he do that got him a 15-year sentence? And, perhaps the most contentious question of all, does Muhammed Usman deserve to be in prison?

Some of these questions can be objectively answered; the last cannot. With an understanding of the chain of events that led to the incarceration, an explanation of the particularly nuanced legal statutes that affected the sentencing, and a consideration of the larger societal questions at play, we leave you to make your own judgment about the ethicality of Muhammed Usman's imprisonment.

Muhammed Usman immigrated to the United States from his home country of Nigeria in 1989. After gaining citizenship in 1996, Usman followed in the footsteps of the entrepreneurial immigrants that came before him, embarking down the well-walked path towards The American Dream. Usman founded a pair of ambulance companies — Royal Ambulance (established in 2003) and First Choice EMS (established in 2005) — that were so successful he was awarded the Republican National Committee's "Who's Who Businessman of the Year."
You can read the lengthy discussion of Usman's illegal activity that ended in his being sentenced to 15 years in the slammer (of course at great expense to taxpayers), here.  (As told by his son!).
The Body Lock story then continues…..
Sports and politics are notoriously contentious, so a story such as Muhammed Usman's where the two collide has generated bellicose debate: some see Muhammed Usman as a criminal conspirator, rightfully punished with an appropriate implementation of justice; others see a victim of a dysfunctional justice system that wrongfully imprisoned the American Dream incarnate after he was scapegoated by his native-born partners for a crime he had no hand in committing.

[….]

Regardless of which perspective one takes, Mr. Usman's saga is undeniably being contemplated through the cultural lens of the time in which his son exposed it: while sentenced back in 2012, Mr. Usman's story encapsulates a spectrum of societal quandaries that America struggles to answer today: encompassed by the issues of race, immigration, questions of over-prosecution in the justice system, government-funded health insurance (and therefore its potential for abuse), the case of Muhammed Usman serves as a Rorschach Test for one's political beliefs; a fitting test given who Muhammed Usman's son will be fighting next.

In a development fit for the final act of a Hollywood blockbuster, it was recently announced Kamaru Usman will be defending his welterweight UFC belt against Colby Covington at UFC 245. Covington — a relentlessly vocal champion of President Donald Trump — has modified the President's strategy of using bigotted rhetoric to galvanize his political supporters fit his own objective: by infusing the "heel" persona of a 1980's professional wrestler with the modern political rhetoric detested by many, Covington has positioned himself as the "UFC's ultimate villain," energizing supporters and detractors alike and drawing attention to his bouts.

Regardless of Covington's motives for his antics, his behavior is indisputably atrocious: racism, xenophobia, homophobia, and misogynism aren't bugs for Covington, they're features. Most notoriously, after telling a Brazilian crowd: "Brazil you're a dump. All you filthy animals suck," Covington took to Instagram to explain he's not a racist, but a "realist:" a common trope racists use to justify racism.

While Colby Covington has successfully increased his relevancy by manifesting the MAGA-movement into a cage fighter, Kamaru Usman seeks to be its, and Covington's, antithesis. Vowing to "put the wrath of every immigrant" (including his father),on Colby Covington, UFC 245 will be an appropriate culmination to the story of Muhammed Usman and his family; the "final-battle" of a narrative almost too perfect for the silver screen.
Read it all here.
Of course it's all hype so more people will watch the December match.
I'm not interested enough to watch, but I'll be looking to see how the media plays it and who ultimately wins this fight.
New American entrepreneurs?
Have a look at all the posts I've written just since January about Nigerian scammers ripping off America and Americans, click here.  I bet no other ethnic group of 'new Americans' has been featured here as much as the Nigerians!