As I have said on many previous occasions, I catch a few minutes of CNN every morning just to see what the spin is on the Left for the day.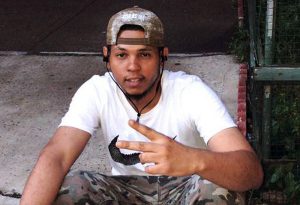 Today they reported on the beating death of four homeless men in New York City's Chinatown.  But, they claimed that although an assailant had been arrested, there had been no identification made of the man. I know I heard the alleged killer's name yesterday, so why was CNN acting dumb this morning?
Turns out the alleged killer is another 'homeless' man who is actually homeless because his mother booted him from her home because he hit her.  The family is from the Dominican Republic.
First, you might want to look at this story at the New York Post and see all of the run-ins he had with the law over the last two years.  What the heck!  Why was he even on the streets? Why hadn't he been shipped home to the Dominican Republic?  Sanctuary NYC!
The unhinged maniac who allegedly killed four homeless people in Chinatown was busted last year for biting a man's chest during a savage assault, a law enforcement source told the Post.
There is much more at the New York Post.
Now here is the story about his Dominican family.  From the New York Daily News:
Mother of suspect in quadruple homeless homicide was terrified of her violent, drug-addled son
Fioraliza Rodriguez knew her homeless son was deeply troubled: He struggled with a drug habit, stole from the family, assaulted her and his grandfather.

The distraught mother still burst into tears Saturday after learning her deranged older boy was behind bars for the brutal bludgeoning deaths of four fellow homeless men during a bloody Chinatown rampage.

"Oh my God, oh my God!" she screamed in Spanish. "Lord help me! Oh my God!"

The 55-year-old Rodriguez told the Daily News that she never believed her son Randy, despite his myriad problems, could take someone's life.

"I never thought he would kill someone," she said.. "I was afraid of him, though, because he punched me. That's when I told him to get out of my house."

According to family members, Randy Rodriguez Santos started using drugs when he arrived in New York from their native Dominican Republic about four years ago. He soon turned violent, breaking his grandfather's nose in a 2016 incident, and just last Monday slipped into the family home to steal a watch, a phone and three phone chargers.

His mom booted Randy from the house more than three years ago, but he remained a menacing presence popping in and out of their lives.

"When I told him to leave, he came back and threatened me," she recounted. "He said when I go back to Santo Domingo, he'll get people to cut my face."
Are you wondering how 'Randy' came to be living apparently legally in America—family reunification!  
By the way, have you noticed that almost every story blasting the President in recent weeks on immigration policy says he is breaking up families.
Obviously the talking point has gone out via the Open Borders agitators to their lackeys in the press—mention the broken families!  This is one family that the law should have broken!
So we got 'Randy' Santos most likely through family reunification and the question is how did we get mama Fioraliza?  Likely through family reunification!
See this informative backgrounder at the Migration Policy Institute on immigrants from the Dominican Republic living in the US—about a million of them—mostly here through chain migration (family reunification).
So with all this information out on the "maniac" Rodriguez Santos  yesterday why was CNN playing coy this morning and pretending not to know who had been arrested?  No wonder we can't trust them!
Addendum: Just a reminder that I am putting up fresh material at the newly reconstructed Refugee Resettlement Watch.  This fishy story yesterday from Idaho might just as easily have been posted here at 'Frauds and Crooks.'