"Do I regret what I did? Never. If I had to do it one more time, I would do it. I regret I didn't kill that cop."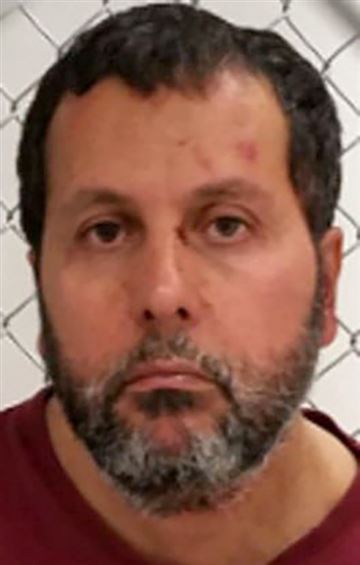 He is really a Tunisian, but all the earlier reports I read kept referring to him as a Canadian.
He was living in Canada legally and is therefore obviously one of their great diversity picks!
Now American taxpayers get to pay for his incarceration for life and you can bet he is going to be a demanding prisoner when it comes to his religious 'requirements'!
I didn't get around to this story last week, but I expect most of you didn't see it anyway, although much to my surprise this is a Reuters story posted by NBC. What is going on at NBC, they have had some pretty useful stories of late!
From Reuters via NBC,
Man gets life in prison for stabbing police officer at Michigan airport
FLINT, Mich. — A Tunisian man was sentenced to life in prison on Thursday for stabbing a police officer at the airport in Flint, Michigan, a decision a federal judge said was made easier by the defendant's defiant and angry remarks in court.
"Do I regret what I did? Never," Amor Ftouhi, 51, told U.S. District Judge Matthew Leitman. "If I had to do it one more time, I would do it. I regret I didn't kill that cop."
Leitman noted that Ftouhi stated he wished he was free so that he could continue to harm and kill people.

"I have never imposed a sentence even close to this before," the judge said. "I wrung my hands about whether that (life) is an appropriate sentence, but after this morning, I have no doubt whatsoever."

In June 2017, Ftouhi shouted "Allahu Akbar (God is greatest)"before stabbing Lieutenant Jeff Neville, who was working security at Bishop Flint Airport. Other officers wrestled Ftouhi to the ground and prevented him from grabbing Neville's gun.
An FBI investigation found that Ftouhi, who lived in Montreal, Canada, had legally entered the United States five days earlier and tried on multiple occasions to buy a firearm at a gun show.  [Apparently our gun show gun laws do work!—-ed]
[….]
In an unusual move, Leitman interrupted Ftouhi's statement to the court on Thursday to tell him his testimony was damaging his case. Ftouhi was undeterred and continued to rail against the United States, his defense counsel and American Muslims who do not "care about your brothers around the world."
"In my heart, in my blood, in my head, I felt I had to do jihad against the enemies of Allah," Ftouhi said.
More here with more photos.
He is behind bars now at our expense, but how many more 'New Canadians' are out there looking for a chance to kill some Americans?