"…if only that detective unit had a little more intellectual curiosity, how many other people's mothers could have been spared?"

   
(Scott MacPhee whose mother was murdered by the Kenyan Killer)
Reporter Lise Olsen at the Texas Observer has done an extensive examination of the failure of police departments across the country to solve murder cases that if solved early could have saved many other lives.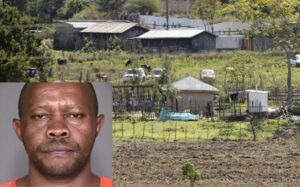 The report is long and begins with a recitation of the failings in the Texas case to identify early-on an alleged serial killer I call the Kenyan Killer, Billy Chemirmir, who alternately is believed to have posed as a health care worker or a maintenance man to gain access to elderly women's homes and apartments some in upscale senior living facilities where families had every expectation that their beloved mother was safe.
I have an extensive file on the case.  Click here.
See my post last month:
Olsen, at the Texas Observer, features the Dallas area police departments failures, but broadens her report to explain a reduction in the number of murder cases solved nationwide is a growing and shameful problem.
I will add one more shameful matter involving the Chemirmir case and that is that the national media has apparently decided to relegate the case to Texas media only.
UNDETECTED
As more homicide cases go unsolved, the backlog of unsolved murders grows and serial killers are free to kill again. Too few police departments are effectively deploying their resources to stop them.
Please read it all.
Olsen wraps with this  story which I hadn't previously heard about.  At least a half a dozen vulnerable women were killed after Carolyn MacPhee who died on December 31, 2017 at the hands of Billy Chemirmir.
She fought hard because his DNA was (too late) found on her glasses.
Carolyn MacPhee met Chemirmir in October 2016 when her husband of nearly 60 years, Jack, was dying of a progressive nervous system disorder. The MacPhees had met in the 1950s at Washington State University in the mountains of Spokane. Even in her early 80s, Carolyn still had the flair of the girl she'd been when they became college sweethearts. She didn't want to send Jack to an institution, but needed help to care for him in their Plano home. She found Chemirmir, who was working under the alias Benjamin Koitaba, through a service that claimed to vet home health workers, although Chemirmir, using a fake ID and already with a criminal record, should not have passed a background check. [Should not have still been in the country in my view!—ed]

"Koitaba" worked as a replacement caregiver in the MacPhees' home off and on for four months—long enough to learn the family's routine and the layout of their home.

As part of the care team, he received notice when Jack died. He came back to murder his former patient's widow six months later, according to a Collin County indictment.When found on Sunday, December 31, 2017, Carolyn was dressed up and ready to go out to church.

Her son, Scott MacPhee, came to his mother's house to meet Plano police officers that day. He was mystified by what he observed: "It was cold that day, but her coat had disappeared. And two valuable rings she always wore were missing." He challenged a Plano detective about the missing items, but the response was, according to him, "Old people hide their stuff."There was blood in the bathroom, in the garage, near her body, and even on her glasses. And yet his mother had no obvious wounds. Officers collected no samples of the blood. Nor did they take photos or videos, he said. No autopsy was ordered by Collin County officials.

The death investigation seemed like a whirlwind, Scott said: "We found her, the cops show up, the paramedics show up, the CSI department shows up, and they rope things off, they do all their investigation, and the detective says she died of natural causes."

Months later, when he saw the news stories about Chemirmir's arrest and all the other killings and robberies of older women, he called police again.Eventually, they called back. Through cell phone records, investigators told him they knew that Chemirmir had visited his mother's home on the day she died. They requested her bloodstained glasses, which he had saved. On them was Chemirmir's DNA.

So far, Carolyn MacPhee is the only victim whom police have identified among Chemirmir's former home health clients, although he worked in other homes between 2013 and 2019, her son said. In that same period, police say he was carrying outserial murders.

What Scott can't stop wondering is this: How many elderly people were marked as natural deaths whose deaths were not natural at all?

Publicly, the Plano, Dallas, and Richardson police departments have said that they are reviewing more than 750 other unassisted elderly deaths over the past 10 years, but Scott is skeptical of their commitment to the cold murder cases. "I have no evidence they've done that. I've seen no more indictments."

He now suspects his mom, fit and feisty, died only after trying to fight off her killer. He believes other lives could have been saved if the blood the killer left behind in his mother's home had been tested sooner. "Nothing is going to bring her back, he said. "But if only that detective unit had a little more intellectual curiosity, how many other people's mothers could have been spared?"
See Carolyn MacPhee's obituary. 
Carolyn lived by Jesus' commandment in John 13:34-35, "A new command I give you: Love one another. As I have loved you, so you must love one another. By this everyone will know that you are my disciples, if you love one another." 
Don't miss my post below.
Visit Save our Seniors Safety and subscribe to their newsletter to keep up with what these women are doing to make sure their mothers' deaths are not forgotten and that some good comes from their personal tragedies.
They are working on a legislative initiative and could use your help.