The word has gone out!  Come one and all to the US Southern Border because Biden/Harris promise they will not hold you on the Mexican side of the border like that mean old Donald Trump did for so long.
Surely you are seeing the news everywhere—oh woe the unaccompanied alien children are suffering.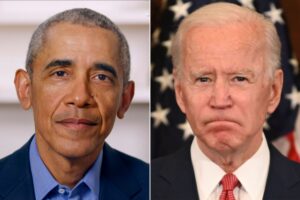 But, no one, even on our side of the immigration divide, tells you that the "children" are not tiny tots crying for mommy, but are mostly teenaged males.
Before I get to that, see my Round-up post yesterday at Refugee Resettlement Watch on the Biden administrations plan to bring in up to 62,500 third world refugees by October first of this year, in addition to the tens of thousands flooding in illegally.
And see that all across the country the contractors are gearing up for the new arrivals (aka new Democrat voters).
Before you even read the news about how Chairman Joe is now getting blowback from his own people because he isn't moving fast enough on his promises to the open borders agitators, and he is incarcerating kids, see this data from the Office of Refugee Resettlement which is responsible for the care and feeding of the unaccompanied alien 'children.'
In fiscal year 2020, 72% were over 15 years-old and 68% were males. Those numbers have remained steady over the years.
At another time in history these young men would have been called invaders.
Mostly teenagers:

Mostly males (and how many of those 17 year-olds are actually much older?)

Here is the news at The Crime Report:
Biden's Immigration Dilemma: Keeping Promises
President Trump at CPAC in 2020. The heathens raged! See Slate: https://slate.com/news-and-politics/2020/03/watch-trump-kiss-caress-american-flag-cpac-love-you-baby.html

Although President Joe Biden promised to end the seemingly draconian immigration policies of the previous administration and reclaim the country's supposed reputation as a safe haven for immigrants everywhere, some supporters are enraged as he continues to expel tens of thousands of migrants, restores an unlicensed shelter for migrant children and struggles to implement policy changes without a full staff in place, reports the Washington Post.

And as former president Donald Trump dispatched his deputies to the Hill on Wednesday to lobby against Biden's immigration overhauls, and Trump plans to blast those changes in a speech at the Conservative Political Action Conference on Sunday, An Immigration and Customs Enforcement email obtained by The Washington Post shows that the administration has already entered crisis mode on the southern border.
Trump is reading the tea leaves, as noted by PJ Media.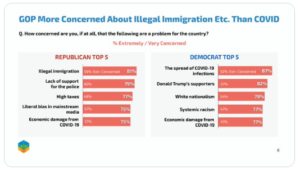 The Crime Report continues…..
An email from the Department of Health and Human Services' Office of Refugee Resettlement reports that shelters have been authorized to purchase airline tickets and cover other transportation costs for unaccompanied minors who have crossed the border and whose relatives are already living in the United States.

[….]

Since Biden's promise not to expel any more minors, the number of minors in federal custody has more than tripled to 7,000, prompting officials to reopen an overflow shelter in Texas to house them — even though the shelter is not state-licensed, as required — until officials can place them with a parent or guardian in the United States.
Endnote: If you are on Facebook, see that I have been posting on my Refugee Resettlement Watch page there.  Click here.  There is lots of enthusiastic commenting going on and so I'll stay on Facebook in order to reach thousands, at least until I get the boot.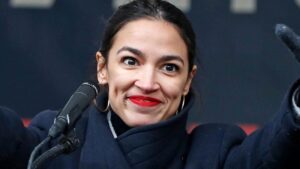 Yesterday I posted this news from the UK Daily Mail. 
AOC wants to abolish the Dept. of Homeland Security and ICE and wants us to admit thousands of 'climate refugees'—a new category of refugee— something I have been talking about for a decade at RRW.