And, five of the seven least favorite involve immigration, proving once again that Trump was always on the right track when he attempted to slow immigration, but for some unexplained reason he steered clear of the issue in the 2020 race.
From Morning Consult:
Biden's Move to Expand Refugee Admissions Is His Most Unpopular Executive Action So Far
48% of voters oppose the president's plan to allow 125,000 refugees into the country in the upcoming fiscal year, while 39% support it.

Five of the seven least popular actions pertain to immigration and immigrant rights.
You can bet the pro-open borders biased media is going to bury this news!
To see the chart more clearly go to Morning Consult.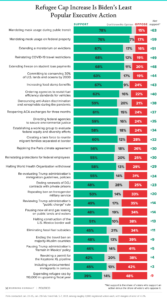 See my post yesterday at RRW where I explain that refugee numbers will be exploding in the coming year and it will depend on you and local organizing if you have any hope of saving your community from massive social, cultural and economic upheaval.
Pinned Post: Personal Story From a Reader Reminds Me! It is now up to YOU!
Let me be clear!  Most Republicans in the House and Senate will not help you! Republican governors have already proven that they too have no spine.
They want more refugees for their business buddies at the Chamber of Commerce.  Refugees work for lower wages and they buy stuff—like used cars!
So they don't care what you think!