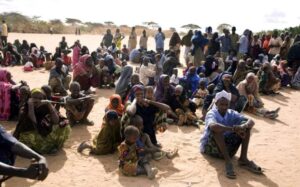 The extremely unpopular 125,000 number, he now says, is for FY 2022 that begins on October 1, 2021.
However, he wants 62,500 immediately!
He must consult with Congress, but that is pro forma because they can't stop him (nor would they!) under the Refugee Act of 1980.
See my post at RRW the other day (below).
For the time being I will mention important refugee news here as so few people are reading RRW (I lost thousands of readers when I was deplatformed there), and I think most people must believe that Trump took care of the issue.  He slowed the flow for a few years, but left the program completely intact.
All it needs now is a fresh infusion of your money, your tax dollars!
Pinned Post: Personal Story From a Reader Reminds Me! It is now up to YOU!
Your fight is going to be a local one!
The only thing you can do is to look out for your own communities and fight the plans to place more impoverished people in your towns and cities. How do you do that?  I have ideas from past experience.  If you are really interested ask me by commenting to this post and I'll see how much interest there is in a tutorial of sorts.
(See maps here for present resettlement sites in the US.)
Most of your governors are too weak, too chicken and in the pockets of big business, so they won't stand up to the Dems who run Washington.
You need to know this information.  It is going to happen more quickly than I had envisioned.  In less than 8 months—62,500!  And during the Chinese virus crisis to boot!
I am guessing this move is to get the federal money flowing to the contractors*** in anticipation of the largest number of clients (they do refer to them as clients!) they could see in over 4 years. 
From the AP at the Baltimore Sun:
Biden wants to raise refugee admissions to 62,500, quadrupling Trump's record-low limit
WASHINGTON — President Joe Biden wants to raise refugee admissions to 62,500 for the current budget year, overriding former President Donald Trump's record-low limit of 15,000, a U.S. official and others said Thursday.
The official and others with knowledge of the plans spoke on condition of anonymity because they were not authorized to discuss the matter publicly.

Trump set the ceiling on refugee admissions in October when the 2021 budget year started, and it runs until September 30. Biden's proposal of 62,500 would replace that, and the president has already announced plans to raise admissions to twice that amount in 2022.

Biden plans to top anything St. Obama ever did in terms of refugee resettlement! 125,000 would do it!  Would be the highest number in nearly 3 decades.

Biden is said to have wanted to raise refugee admissions immediately but not set the target as high as 125,000 people because that would be unrealistic to reach this year with the coronavirus pandemic and the work needed to rebuild the refugee program that had been largely dismantled by the Trump administration.

Biden by law must submit his proposal to Congress and consult with lawmakers before making a presidential determination. The U.S. State Department confirmed that it sent the president's report to Congress, starting that process.
Putting Refugees before the well-being of suffering Americans!
***For those of you new to Refugee Resettlement, these are the nine federal refugee contractors who worked to put Biden and Harris in the White House and are lobbying for millions of illegal aliens to be transformed into legal voting citizens, as well as raising the refugee admissions ceiling from 15,000 this year to 125,000.
They are largely paid by you, the taxpayer, for their work of changing America by changing the people, and in so doing, are putting Americans last!