That is what Judicial Watch is reporting.  Thanks to reader Cathy for the tip.
This is an update of news I shared at RRW last month, here.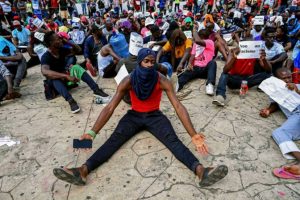 MEXICO REPORTS 250% SPIKE IN AFRICANS TRYING TO ENTER U.S. THROUGH BORDER
Mexico has seen an astounding 250% increase in Africans trying to enter the United States through the southern border, according to the latest figures released by the Mexican government's immigration agency, known as Unidad de Política Migratoria. The stats include the first eight months of 2019 and reveal that, during the same period last year, 1,507 Africans were apprehended in the country compared to 5,286 this year. During the same period 4,783 migrants from India and Bangladesh were also detained in Mexico, according to the data made public this month.

The information is alarming considering Africa and Bangladesh are hotbeds of terrorism and the fact that all the migrants are heading north into the United States. "These migrants, although less in numbers compared to migrants from Central America, increased significantly in the country," a Mexican newspaper article states, confirming that "their principle objective is not to stay in Mexican territory but rather cross the border towards the United States." The story also reveals that a growing number of Cubans, Haitians and south Americans, mainly from Brazil and Colombia, have also been apprehended by Mexican authorities trying to make their way to the U.S. border.

The spike in Africans is worrisome considering the State Department has determined that Africa is a major hub of Islamic terrorism, including al-Shabaab in the eastern part of the country and Boko Haram and ISIS in the west. Bangladesh is also a national security concern because the south Asian Islamic country is well known as a recruiting ground for terrorist groups such as ISIS and Al-Qaeda Indian Subcontinent (AQIS). Earlier this year a congressional probe revealed that migrants from terrorist nations, especially Bangladesh, are trying to enter the United States through Mexico at record rates.

Texas alone saw a whopping 300% increase in Bangladeshi nationals attempting to sneak into the country, according to the federal investigation outlined in a lengthy report.
I'm glad to see JW getting more involved in immigration issues. They may eventually get more information out of our government on these issues through their expertise with the Freedom of Information Act.
Who is encouraging this movement of Africans to Mexico and on to the US Border?
In 2011 I speculated it was NGOs and suggested a Congressional investigation was desperately needed.  Of course, for some reason, no one is interested in answering that question.