Such a quality person Minnesota sent to Washington!
And, what an example she is setting for the first Somali in Congress!
As if her marital situation(s) aren't already complex enough, the news that Minnesota Rep. Ilhan Omar (see all of my previous posts) has been carrying on an affair with a man she employs has made the mainstream news after months of speculation.
What helped the rumor mill get confirmation of the tryst were the divorce papers filed by the jilted wife of Democrat consultant Tim Mynett.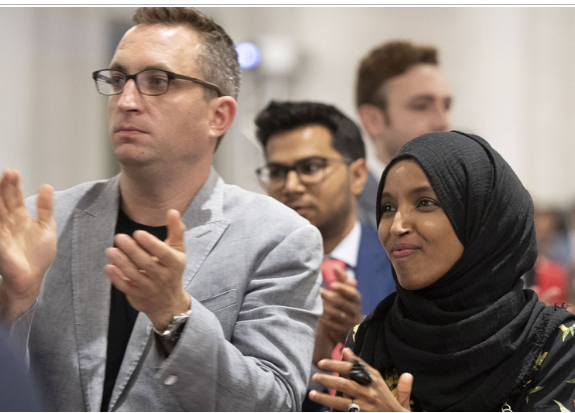 Here Fox News gives us the bare bones story,
DC consultant's alleged affair with Ilhan Omar is front and center in divorce papers
The wife of a prominent Washington political consultant has filed for divorce, claiming her husband made a "devastating and shocking" revelation that he was having an affair with freshman Rep. Ilhan Omar, D-Minn.

Beth Mynett, 55, submitted divorce papers in Washington, D.C., Superior Court on Tuesday, saying her husband, Tim Mynett, 38, informed her earlier this year that he was having an affair with Omar.

"The parties physically separated on or about April 7, 2019, when Defendant told Plaintiff that he was romantically involved with and in love with another woman, Ilhan Omar, who serves as a U.S. representative from Minnesota," read the filing, obtained by Fox News.

The filing continued: "Although devastated by the betrayal and deceit that preceded his abrupt declaration, Plaintiff told Defendant that she loved him and was willing to fight for the marriage. Defendant, however, told her that was not an option for him."

The couple lived together for six years before getting married in 2012. They have a 13-year-old son.

"It is clear to Plaintiff that her marriage to Defendant is over and that there is no hope of reconciliation," the filing stated.

The news of the divorce filing, first seen in the New York Post, comes just over a month after it was reported that Omar had separated from her husband and father of her three children, Ahmed Hirsi, and moved into a luxury penthouse in Minneapolis.

Omar's campaign has paid Tim Mynett's E. Street group around $230,000 for fundraising consulting, digital communications, Internet advertising and travel expenses since 2018, records showed. The 37-year-old congresswoman was spotted back in March with Mynett at a California restaurant.
International attention! There are more details in this report at Globe Intel:
Beth Jordan Accuses Ilhan Omar of Stealing her Husband
Happier times (before Ilhan came along)!

Dr. Beth Jordan Mynett is an American physician and the Medical Director of the DC Department of Corrections.

She is the former wife of Tim Mynett – a political consultant who she has accused of being in a relationship with Somali-born US representative, Ilhan Omar.

[….]

She has a 20 years experience as a Clinician and Administrator, including in both urgent care and emergency room treatment and previously served as the Medical Director for the National Association for Reproductive Health. She is recognized as an expert in Women's Reproductive Rights. In 2013 she joined the DC Department of Corrections as the agency's new Medical Director.

[….]

Beth filed for divorce from her husband and is seeking custody of their 13-year-old son, child support, full control of their DC home and legal fees to be paid.She also argued in court documents that she doesn't trust her estranged husband's judgment with their son — in part because of his relationship with Omar.

"By way of example, days prior to Defendant's devastating and shocking declaration of love for Rep. Omar and admission of their affair, he and Rep. Omar took the parties' son to dinner in order to formally meet for the first time at the family's favorite neighborhood restaurant while Plaintiff was out of town. Rep. Omar gave the parties' son a gift and the Defendant later brought her back inside the family's home."

In the court documents, she also added that the most concerning thing about the jaunt was her hubby's decision to "put his son in harm's way" by taking him out in public with Omar, "who at that time garnered a plethora of media attention along with death threats."
Let me say (with all sincerity) thank you Minnesota for sending Ilhan Omar to Washington as the first Somali to represent the Somali refugee community for the entire nation to see!
I'm wondering if her good friends at CAIR have anything to say?
This post is filed in my 'Politicians as frauds' category.