***Update***

Breitbart is reporting that the alleged killer came to the US as a child in a refugee family from Ethiopia. He became a US citizen a few years ago.
I'm headed out, but just want to quickly post this dreadful story (hat tip: Jim).
I'll let you search for the details yourself (it is all over the news).
But, here is Jim Hoft's headline at Gateway Pundit:
Ethiopian National Eliyas Aregahegne Stabs to Death Random White Girl Walking Her Dog in DC
Of course none of the major media is reporting anything about his status as a 'new American' from Ethiopia.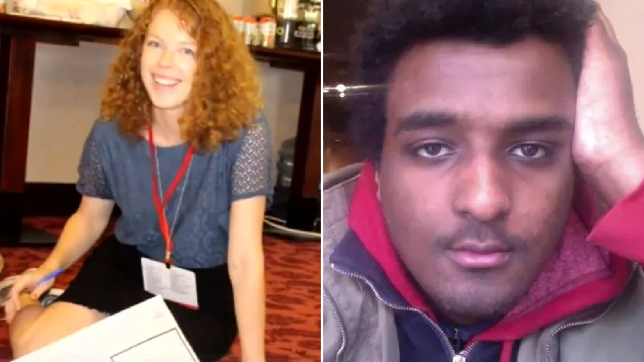 But here is more information at Heavy.com about the evil creep.  On social media he described himself as Ethiopian.  Note (when you read the Heavy story) that he was an Obama and Hillary supporter.
Eliyas Aregahegne: 5 Fast Facts You Need to Know
Eliyas Aregahegne, the suspect accused in the random stabbing of a Washington D.C. dog walker who was interning in the city, described himself as a once promising college student and scholarship winner.

That all changed, police say, on August 27, 2019; they accuse him of repeatedly stabbing a stranger to death on the street in a vicious random attack. The victim was named as Margery Magill, 27, of Northwest, D.C. Police wrote that, on August 28, 2109, Eliyas Aregahegne, 24, of Northwest, D.C., was "arrested and charged with first degree murder while armed."

"It's absolutely tragic. I still can't wrap my head around it," Magill's sister, Raeann Magill, told News4. "You know, out walking a dog and to be attacked like that. How can anyone even fathom that? I mean, it's truly tragic and I even think to myself, why her?" Police say they don't know.

[….]

Eliyas Aregahegne wrote on Facebook that he was single, lived in Washington D.C.,and was a "POSSE Scholar UW-Madison." He also wrote that he was from Washington D.C. On Instagram, Aregahegne wrote, "18 y/o, Aries🐏. Ethiopian.UW-Madison Class of 2017." Heavy contacted the UW-Madison PR office and learned that Aregahegne was briefly a student at Madison but not in 2017 as he wrote.
It makes me sick!
African immigrant kills white woman—how many times lately have we reported that story!
Mark my words, but by tomorrow or the next day the story will be forgotten because once again the horrific news runs counter to what the PC media want you to believe which is that they are all here for a better life!