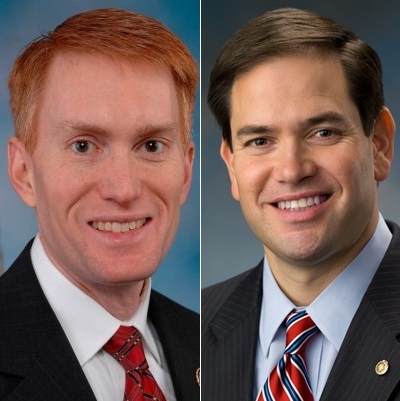 Responding to the fear that the Trump Administration might really cut the number of refugees to be admitted to the US in FY2020 (which begins on October 1, 2019) to zero, Senator James Lankford (R-OK) and Chris Coons (D-DE) spear-headed a letter to the Secretary of State saying they want the President to "increase" the number of refugees to be admitted.
However, they aren't willing to say what that number should be! I suspect that is because once a number was discussed their 'bipartisan' effort threatened to fall apart.
We assume they want more than the 30,000, the number the President set as the ceiling for the present year.
The resettlement contractors want 95,000!
Note the usual Leftwing Open Borders Dems are joined by nine Republicans.
See if your Senator is among them.
This is Lankford's press release yesterday:
Senators Lankford, Coons Lead Letter on Concerns to Eliminate Refugee Cap
OKLAHOMA CITY, OK – Senators James Lankford (R-OK) and Chris Coons (D-DE) led a bipartisan letter with Senators John Thune (R-SD), Patrick Leahy (D-VT), Lisa Murkowski (R-AK), Tina Smith (D-MN), Mike Rounds (R-SD), Thomas R. Carper (D-DE), Rob Portman (R-OH), Kristen Gillibrand (D-NY), Susan Collins (R-ME), Jeanne Shaheen (D-NH), Roy Blunt (R-MO), Tammy Baldwin (D-WI), Marco Rubio (R-FL), Chris Van Hollen (D-MD), Cory Gardner (R-CO), and Ed Markey (D-MA) to the administration to express concern about reports of a proposed elimination of refugee resettlements for FY2020.
The Senators wrote, "While some Members of Congress have already expressed their displeasure with the FY2019 resettlement cap, and the lower-than-normal admittance numbers for FY2017 and FY2018, eliminating refugee admittance altogether is even more alarming. At a time when we are facing the 'highest levels of displacement on record,' according to the United Nations Refugee Agency, we urge you to increase the refugee resettlement cap and to admit as many refugees as possible within that cap.
America has a responsibility to promote compassion and democracy around the world through assistance to vulnerable and displaced people."
Continue reading here.  There is a link to the letter there as well.
See that the Catholic News Agency is on the story. Of course!
I don't need to tell you what to do, right!  If your Senator is one of the Republicans in this gang of nine, let him or her know what you think!
Some of the Rs on this list might think this is a freebie for them, make sure they know you are watching!