Although he really isn't an Arkansas man!  He is a Yemeni national who lived in Arkansas ever since his father used illegal means to get his family into the US.
Thanks to Richard for the tip.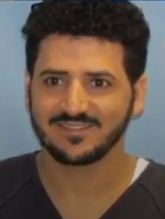 The story broke yesterday and is rapidly making the rounds of small city media outlets since the AP posted a pretty decent story.
Initial local Arkansas media coverage left out a key point, as did yesterday's Justice Department press release—none that I saw, except the AP, said a word about how this Yemeni NATIONAL was living among us.
Indeed, rarely do we see mention of how these criminals and terrorists get into the US in the first place and that is always the most important question for me.
How do we fix our 'broken' immigration system if we don't know how it is being gamed?
Here is a bit of the AP story posted at the Washington Post:
Arkansas man charged with helping al-Qaida
LITTLE ROCK, Ark. — A Yemeni national living in Arkansas was charged with providing support to a terrorist organization, the U.S. Department of Justice said Friday.
Bilal al-Rayanni was charged Thursday with supporting al-Qaida in the Arabian Peninsula between October and December of 2014 while he was in Yemen.


Al-Rayanni was in Yemen, his home country, for three months in 2014.


The 28-year-old was initially on arrested June 27 and charged July 11 with making a false statement on a passport application in May. According to the original complaint, he allegedly used the name Bilal Kassim Alawdi, which he had been using on passport documentation since he was a small child.
The Justice Department said al-Rayanni "provided and attempted to provide material support and resources, in the form of personnel (including himself) and services" to the terrorist organization, but did not elaborate. A spokeswoman said the department opened an investigation because of a citizen report.
[….]
The Justice Department said al-Rayanni lived in Arkansas before and after he traveled to Yemen in 2014.
Al-Rayanni is a resident of Helena-West Helena, about 100 miles (160 kilometers) east of Little Rock. He's been in federal custody since the June arrest and his arraignment is scheduled for Thursday.
In an interview the day before he was arrested, al-Rayanni told State Department and FBI agents that his father had purchased a U.S. visa from a Yemeni man whose name was Kassem Alawdi. His father then used that visa in 1992 to obtain a U.S. passport for al-Rayani under the name Bilal Kassim Alawdi. He said he didn't learn his true name until he was between 10 and 12, but has used the false name to obtain and renew passports in 2002 and 2008, as well as the most recent attempt to renew his passport in May.
I'm more interested in the immigration fraud then I am in his terrorist inclinations!
I sure hope the US Justice Department is now going after his Daddy and anyone else who got into the US with him by lying and cheating!
If it was a visa, then for what?  Did they just overstay the visa and no one figured out that they were here illegally?
And, if they got into the US on only a visa for some limited time, how did they get US Passports with only visas permitting them to be here?  So many questions!