On my daily hunt for more news about Billy Chemirmir, accused of murdering twelve elderly American women by smothering each with a pillow, I see no mainstream media has shown further curiosity about an alleged serial killer who preyed on vulnerable white women in order to steal from them.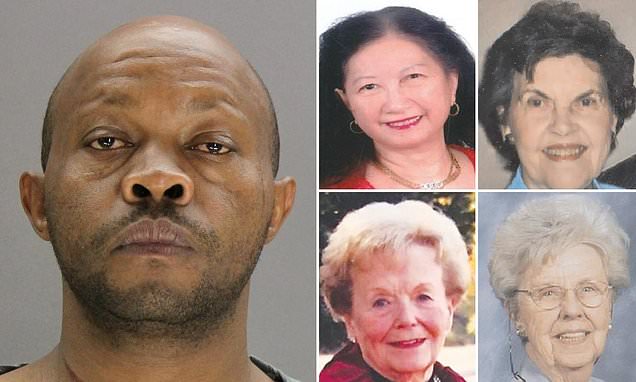 His killing spree went on for several years before investigators caught a break and arrested him in March of 2018.
No major media is interested, but thank goodness Breitbart reporter John Binder was curious enough to find out how Chemirmir actually got into the US.
We earlier reported that Kenyan media had an interest in a case involving one of its citizens, however, no major media in the US has pursued his immigration status, indeed most have never even mentioned the case!
Authorities in Texas are now searching through information on other deaths of elderly women who died alone and fit a certain profile—white and with some means (so they had possessions for Billy to sell!).
Editors note: I've had some complaints that the e-mails you receive as a subscriber have various problems. I can't control that, it is a wordpress issue. I want to encourage all regular readers to simply come to 'Frauds and Crooks' every day to see what is new! The link is here https://fraudscrookscriminals.com/ and new stories are always at the top!
Continue reading to see Breitbart's news…..

Here is Binder's report yesterday,
Accused Illegal Serial Killer Given Green Card After Overstaying Visa
An accused illegal alien serial killer who has been charged with murdering 12 elderly women overstayed his visa, was never deported, and was able to obtain a green card.
As Breitbart News reported, 46-year-old illegal alien Billy Chemirmir, born in Kenya, had been living in Dallas, Texas when he was originally charged in March 2018 with murdering 81-year-old Lu Thi Harris.
This month, however, Chemirmir was charged with murdering 11 other elderly women, all between the ages of 76 to 94-years-old. The illegal alien worked as a home healthcare worker and was a home aide to many of the women.
A law enforcement source confirmed to Breitbart News that Chemirmir first arrived in the U.S. on a B-2 visa — commonly known as a tourist visa — in July 2003.
Though Chemirmir was supposed to only temporarily be in the U.S., he overstayed his visa and became an illegal alien who was eligible for deportation.
Rather than being deported, however the illegal alien was able to use a loophole in the country's legal immigration system that allowed him to obtain a green card after marrying a U.S. citizen.
In November 2007, Chemirmir was approved for a green card allowing him to permanently resettle in the country. Every year, more than 1.2 million legal immigrants are admitted to the U.S.
A law enforcement source also said the illegal alien had a criminal record, including convictions for drunk driving, trespassing, assault, and obstructing a police officer.
More here.
You will be hearing about the Kenyan Killer regularly as he is the classic poster child for what is wrong with our immigration system.  His case also has brought to our attention the plight of elderly women who are easy targets for evil creeps like Billy. 
BTW, he was clever enough to allegedly suffocate his elderly victims making it possible for an easy assumption to be made that the older women died of natural causes.  More on that hopefully tomorrow.
I've made a tag here for 'Billy Chemirmir' that will make it easier for you to go back to earlier posts on the horrific serial murder case.