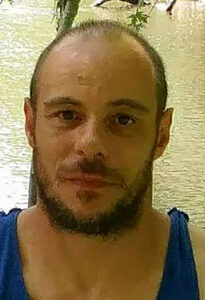 I first told you about the clash instigated by a gang of ethnically mixed 'youths' here at RRW in June of 2018.
Many months later the local police have finished their investigation and arrests were made this week in the killing of  Donald Giusti who died when he was hit by a rock and beaten at a Lewiston park last June.

The news of the arrests is here at the Lewiston Sun Journal (hat tip: Kafir),
LEWISTON — A local teen who told police he threw a rock into a crowd during a fight last summer that struck the head of a man who later died denied a manslaughter charge Thursday.
Emmanuel Knurunziza, 18, appeared in 8th District Court after he was arrested as a juvenile earlier in the day by Maine State Police in Limestone. He was 17 years old at the time of the fight. The felony is punishable in adult court by up to 30 years in prison.


Only a pic of the 23-year-old Pierre Musafiri is available. 


In addition to Knurunziza, a 13-year-old boy and a 23-year-old man, both of Lewiston, were arrested early Thursday in downtown Lewiston in the June 2018 beating death of Donald G. Giusti near Kennedy Park. The two were charged with misdemeanor assault. The teens were taken to Long Creek Youth Development Center in South Portland.
Giusti, 38, died June 15 at Central Maine Medical Center in Lewiston, three days after he was beaten on Knox Street.
A medical examiner determined the cause of death to be blunt-force trauma that included two "significant areas" of trauma to Giusti's head and brain. Deputy Medical Examiner Lisa Funte also noticed a "patterned injury" on Giusti's left shoulder, a broken clavicle and a fracture to one of his left rear ribs, according to the autopsy report.
Police secured a search warrant for a videotape of the June 12 melee that showed a man throwing a rock that struck a man identified as Giusti. Knurunziza later told police he had "thrown a rock towards a group of people during the fight," and was told afterward the rock had struck Giusti in the head.
A witness identified for police not only a person who kicked Giusti in the area where he had suffered a broken clavicle, but also a person — Pierre Mousafiri — who kicked Giusti in the area of his rib cage where he suffered a fracture, according to an affidavit written by Maine State Police Detective John Kyle II.
Interesting because this is the first time I am seeing any mention of gangs made up of both Somali and Congolese refugees.
A witness had told police he had seen 30 Somali and Congolese people fighting 15 white people at Knox and Spruce streets on the night of June 12. Seven police officers arrived at the scene at about 10:45 p.m., while the fight was in progress.
[….]
One witness, who videotaped a portion of the fight, told police a "white guy" had been running backwards and had stumbled. After righting himself, "he was struck in the head with a brick, which caused him to fall to the ground."


Lewiston Mayor Kristen Cloutier said in a statement; ""We must make a concerted effort every day to relate to each other with civility and understanding…."


"After he fell, the Somali and Congolese group 'stomped' him for about 10 seconds, before they took off running," Kyle wrote in his affidavit.
That witness said several people were armed with sticks, BB guns and a bat.
[….]
In the days after the fight, several people insisted the attack on Giusti and his friends had been racially motivated, the result of tensions that had existed in and around the park since the end of winter.
Lewiston police responded to those allegations as the investigation got underway, confirming the group included an ethnic mix.
Police had said the investigation took longer than some because of the sheer number of people involved and because many were juveniles.
In the courtroom Thursday, Knurunziza sat next to his father, his hair braided and pulled back. He wore a blue-and-black windbreaker and faded jeans. An interpreter translated English to Lingala, a Bantu language. [Bantus are Somalis—ed]
That last line is the information that confirms that the arrested men are refugees 'welcomed' to America by the US State Department and subsequently placed in Maine.
For more go here.