But, at least in this story, the 'new Americans' are robbing and beating their fellow 'new Americans.'  (See my recent post about the death of a white man at the hands of an immigrant gang.)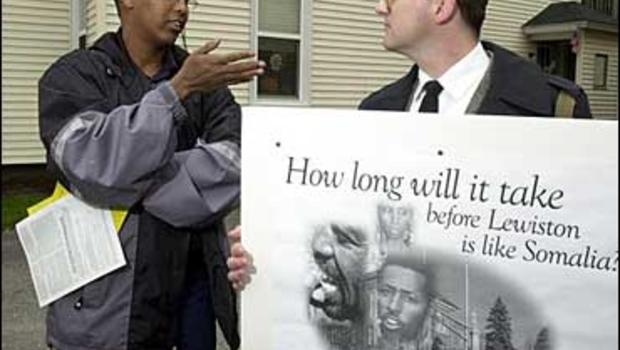 Move over Minneapolis, little Lewiston, ME is trying to catch up with you in the diversity-is-beautiful race to the top by keeping the local police busy.
If this is an example of what happens when dying cities 'welcome' migrants, maybe Lewiston should have been left to die?
(I wonder, does adding jobs in the police department count as a way to improve the local economy in dying cities? Pew?)
Editor:  I'm going to be gone for a few days, so trying to get a couple of posts up this morning for you before I dash!  I will be tweeting while I'm away so watch my right hand sidebar here at Frauds and Crooks for news that you can use!

From the Lewiston Sun Journal (hat tip: Kafir),
Judge denies bail for Lewiston man accused of fracturing man's skull
LEWISTON — A judge revoked bail Monday for a local man who police said fractured a man's skull on a downtown street last summer and robbed him.


New American Mouamed A. Mouamed


Mouamed A. Mouamed, 21, of 135 1/2 Barlett St. had been indicted on five felony charges stemming from the alleged assault and two felony drug charges connected to an earlier arrest.
He is charged with elevated aggravated assault and robbery, each punishable by up to 30 years in prison.
He is also charged with robbery and two counts of aggravated assault, each punishable by a up to 10 years in prison.
A misdemeanor charge of violation of condition of release is punishable by up to six months in jail.
The victim, Ahmed Abdulle, 36, of Lewiston told police he had been walking home Aug. 10, 2018, listening to music on a wireless portable speaker when a couple of males approached him on Knox Street. He said he knew one of them, describing him and where he lived. He said the two of them had "issues" in the past, according to a police affidavit.
The man, known to Abulle as "Moe," told him he wanted his $30 speaker, and the two men argued. The argument escalated into the man pushing Abdulle and striking his head with a beer bottle, causing him to fall. His limp body was dragged to the side of the street when someone yelled and his assailant ran away, according to the affidavit.
More here.
By the way, if you want to learn more about Somalis in Maine, go to my old blog Refugee Resettlement Watch and type 'Maine' into the search window.  There are a whole lot of posts over the years about the Somali capital of New England—-Lewiston!