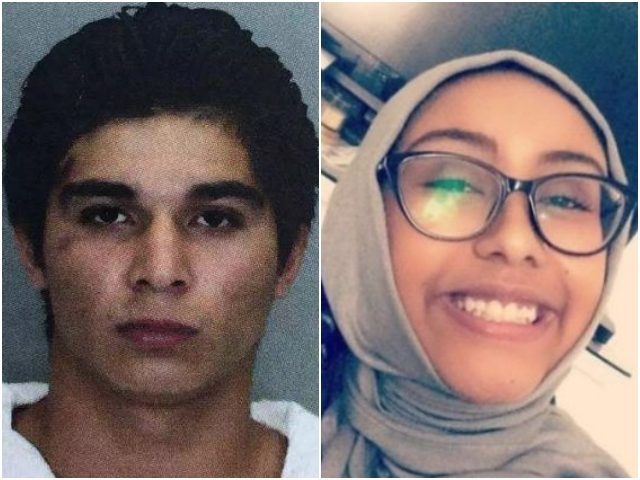 You might remember the story from June 2017, when a Muslim teen was beaten to death and the local Muslim community and its media mouthpieces were absolutely sure her death was the result of rampant Islamophobia, but as I said here at the time:
…there is no Islamophobic Rightwing redneck American to blame here.
Just a run of the mill case of an illegal alien animal free to roam America thanks to our failed immigration system—our failure to close the border, then and now!

John Binder writing at Breitbart has the news about the sentencing of Darwin Martinez Torres last week.  There was no fanfare, no whipped up hysteria as there was at the time of the murder when the mainstream media was sure that Hassanen died because of Trump's hate speech.
Illegal Alien Gets Life in Prison for Raping, Beating Muslim Teen to Death
A young illegal alien has been sentenced to life in prison for brutally attacking, raping, and beating 17-year-old Nabra Hassanen to death in the sanctuary city of Fairfax County, Virginia.
Darwin Martinez Torres, a 22-year-old illegal alien from El Salvador, was sentenced to life in prison without the possibility of parole for murdering Hassanen in June of 2017. Last year, the illegal alien pleaded guilty to raping and murdering the teenage girl.
As Breitbart News reported at the time, Hassanen and a group of fellow Muslim teenagers were eating at a nearby McDonald's when they left and started walking back to the All Dulles Area Muslim Society (ADAMS) Center. According to police, Torres started following the teenagers.
Soon after the teens noticed Torres, the illegal alien jumped a curb with his car and got out of his vehicle and started chasing the teens while wielding a baseball bat.
Torres was able to grab Hassanen and began beating her with the bat, before ultimately putting her in his car, driving to a neighboring county, raping and murdering her. The illegal alien took her body to a nearby pond and dumped her there for the authorities to later find.
[….]
For the past two years, the establishment media has buried Torres' illegal alien status in reports. Associated Press and local media reports on the case, for example, called the illegal alien "Sterling man" in headlines, referring to the illegal alien's Sterling, Virginia residence.
Why did you kill my daughter?
By the way, we learned from the Washington Post on Thursday that in an unusual arrangement the family is being permitted to question the convicted murderer about why he did what he did, presumably still hoping to make sense of the crime.  Maybe still hoping it was Muslim hatred that drove him?
Martinez Torres has agreed to answer any and all questions posed by Hassanen's family sometime during the next year, under an unusual provision of a deal reached with prosecutors in November that spared him the death penalty. The questioning may occur in writing.
As I ask so often—-get this story spread far and wide.  It was a sad story, but a classic case of the media and the Muslim community jumping to the only conclusion they could fathom—Islamophobia made him do it.
And, one more thing, follow John Binder at Breitbart he writes about immigration issues daily (sometimes several times a day!).