This is one of the better stories I've read on the funeral for a man, an immigrant who gave everything for America, who should be alive today.  Instead some Mexican low-life who allegedly entered the US illegally is still breathing.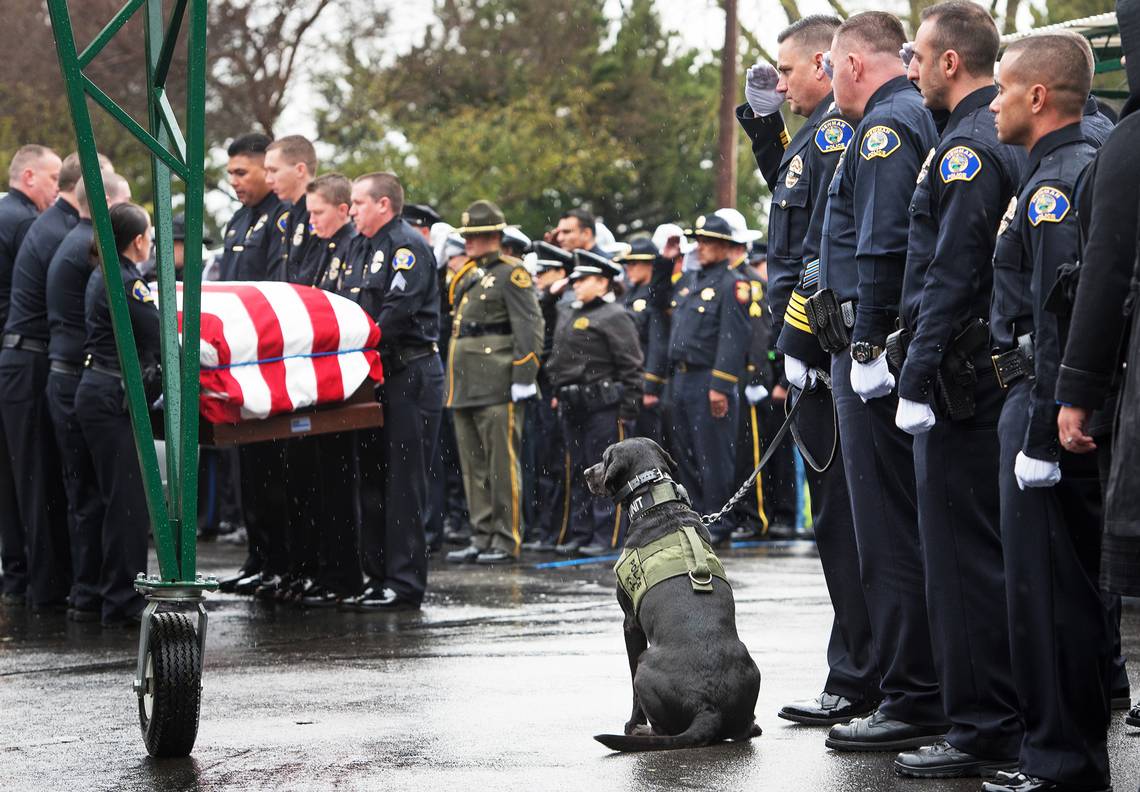 From the Modesto Bee (emphasis is mine):
CrossPoint Community Church overflowed with mourners. The main Worship Hall was standing-room only, reserved for uniformed law enforcement and family members.
Three additional viewing areas inside the church for the general public also were packed and in Newman a livestream viewing was held at Orestimba High School.
[….]
The funeral for the 33-year-old Singh, who was shot and killed while performing a traffic stop in the early hours of Dec. 26, drew some 4,000 people and officers from more than 100 agencies up-and-down the state, as far away as New York and Massachusetts and even two members of the Royal Canadian Mounted Police.
[….]
The family immigrated to the United States in 2003, and he worked his way up working various positions at local law enforcement agencies including the Modesto Police and Turlock Police departments and the Merced County Sheriff's Department. Then in 2011 he achieved his dream of becoming a police officer when he was hired by the Newman Police Department. He was promoted to become a K9 officer in 2013 and the rank of corporal in 2016.
[….]
Aside from the speakers' voices, the quiet hall was interrupted only by laughter at Singh's jokester antics and the occasional burbling sounds of Singh's five-month-old son, Arnav, who sat in the front row held by with his widow, Anamika Chand-Singh.
[….]
About 2,000 law enforcement representatives took part. Modesto Police Department spokesman Billy Boyle said he had never seen as large a combined police and public turnout as at the funeral service, and that it spoke to the close relationship local law enforcement has with the community.

And, it spoke to the public's universal outrage at the monstrous unfairness of it —that an illegal alien creep who shouldn't have been in the country in the first place allegedly took Singh's life.
Read more at the Modesto Bee.
Donate to the family through the police department
There is no official GoFundMe account for the family.  The Stanislaus County PD makes it clear on their facebook page that there is only one legitimate fundraising effort on-going for the family.
Please be aware there are NO other approved or authorized memorial fund or online fundraising accounts that will be established.
Click here to see how you can donate.

Michelle Malkin wants to know why the Democrats are silent, especially California Democrat women!  And, it seems to me that the Rs should be talking about Corporal Ronil Singh every day as the wall debate continues.  Indeed his death could save thousands in the future if the US finally controls the southern border!