For those of you who were shocked, dismayed, stunned, depressed yesterday when you began hearing about what was in a bill passed by both Houses of Congress that was supposedly a COVID relief package, you got some solace later in the evening when President Trump went before the American people to say he would not sign the bill in its present form.
He stopped short of using the word "veto," but said he won't sign this monstrosity.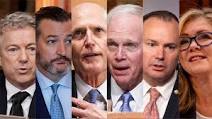 By the way, only six brave Republican Senators voted against the 5,000 plus page bill that NO one has read:
Sens. Rand Paul, R-Ky., Ted Cruz, R-Texas, Rick Scott, R-Fla., Ron Johnson, R-Wis., Mike Lee, R-Utah, and Marsha Blackburn, R-Tenn.***
In the House it was 359 for and 53 against, see here.
You can watch our President's four minute display of leadership below (I see much of the media is calling it a rant).   He asks why we are sending billions abroad when Americans are hurting through no fault of their own.
— Donald J. Trump (@realDonaldTrump) December 23, 2020
Here is just one of dozens of news stories on the President's big surprise to our disgusting House and Senate.
From the BBC:
Trump urges Congress to amend 'wasteful' coronavirus aid bill
In a video message posted on Twitter, he said the package "really is a disgrace", full of "wasteful" items.

"It's called the Covid relief bill, but it has almost nothing to do with Covid," he said.

See Rush Limbaugh's extensive commentary on the bill from yesterday afternoon. He laments that the rats are back at work as they assume the Trump era is over. https://www.rushlimbaugh.com/daily/2020/12/22/nothing-changes-in-washington-the-covid-relief-bill-should-be-vetoed/

The $900bn bill includes one-off $600 payments to most Americans, but Mr Trump said the figure should be $2,000.

His statement stunned Capitol Hill.

Republicans and Democrats have been negotiating a coronavirus stimulus rescue package since July and Mr Trump – who has largely stayed out of the talks – had been expected to sign the legislation into law following its passage through Congress on Monday night.

[….]

However, Mr Trump has not specifically said he would veto the bill. Even if he does, US media say there could be enough votes from both Democrats and Republicans in Congress to override his veto.

[….]

In Tuesday night's message from the White House, Mr Trump baulked at spending in the bill on other countries, arguing that this money should go to struggling Americans.

He said: "This bill contains $85.5m for assistance to Cambodia, $134m to Burma, $1.3bn for Egypt and the Egyptian military, which will go out and buy almost exclusively Russian military equipment, $25m for democracy and gender programmes in Pakistan, $505m to Belize, Costa Rica, El Salvador, Guatemala, Honduras, Nicaragua, and Panama."

The president questioned why the Kennedy Center, a performing arts complex in Washington DC, was set to receive $40m when it is not open, and more than $1bn has been allocated to museums and galleries in the capital. [Which are also  mostly not open!—ed]
The President has nothing to lose now if he vetoes the monster that will put the US in even greater debt (to China?) for generations to come.  It will reaffirm his strong leadership that will be needed for the years ahead.
Yeah, they can override his veto, but then we will all know who puts Americans First and who puts us last. After all, the midterm elections are not far off.
*** These six should join Senator-elect Tuberville (and many Members of the House) in opposing a Biden/Harris presidency on January 6th.  What have they got to lose?