This is an update in the ongoing investigation into the brutal murder of Mackenzie Lueck.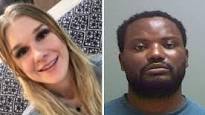 (See all of my previous posts here, and my prediction that this story will go away, except for media in Utah, because the alleged killer should not have been in the US in the first place and he is African.)
From the New York Daily News (the only national news outlet I see that is still following the story),
Suspect charged in murder of University of Utah student Mackenzie Lueck also facing 19 counts for child porn
An investigation into the killing of University of Utah student Mackenzie Lueck turned up a collection of child pornography on a computer allegedly belonging to the murder suspect.

The Salt Lake County District Attorney's Office on Tuesday announced that 31-year-old Ayoola Ajayi was charged with 19 counts of sexually exploiting a minor after authorities discovered "numerous images of children engaged in sex acts" during a search of the suspect's home on June 26.

The 19 images, described in the probable cause document in graphic detail, show girls believed to be between the ages of 4 and 8 years old performing sex acts or posing suggestively in various stages of undress.

Authorities did not indicate any link between Lueck's death and the pornographic images.

Ajayi was previously charged in July with aggravated murder, aggravated kidnapping, obstruction of justice and abuse or desecration of a human body in connection with Lueck's slaying.

[….]

When authorities discovered her body, Lueck's arms had been bound behind her back and the medical examiner said she died from blunt force trauma to the head.

Amid the investigation into her slaying, authorities combed through both Lueck and Ajayi's social media and dating profiles in a bid to find a connection between the two. According to court documents, they both had accounts on a site called "Seeking Arrangements" — which bills itself as a way for wealthy "sugar daddies" to connect with "sugar babies."  
The story should be spread widely to warn other young women living in la-la land that there are a lot of predatory monsters out there just waiting to prey on them!
Salt Lake County District Attorney Sam Gill said his office is now working to determine where the pornographic images on Ajyai's computer were made and who made them. He told The Salt Lake Tribune they will use federal resources in their probe, which is also aimed at identifying the victims.