Looking at the list of robberies he got away with before being caught, one wonders how he was so visible with his machete in the stores, but not arrested sooner.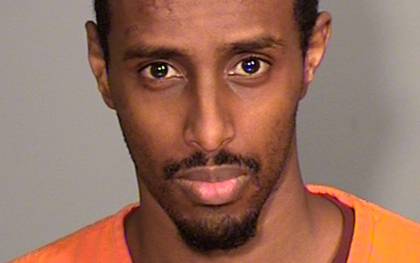 Remember readers, that almost all Somalis in the US are here because the US State Department admitted them, or their parents, as refugees and one of several church resettlement contractors placed a large number of them in Minnesota (see a post I wrote in 2011 here).
Lucky Minnesota!
'New American' Ali says he couldn't help himself he needed to supply his drug habit.

After reading this latest crime story from 'welcoming' Minnesota, you might want to check out the latest stats for employment etc. and see that the Somalis are not doing so well.
Although they and their children (many born there) have been in Minnesota for decades, they still have not attained an educational level that moves them up in the Median Household Income level for the state.
Here is the story about Ali and his machete (hat tip: Janet),
Charges: Man used stolen machete in string of Target robberies in St. Paul
A Minneapolis man is accused of robbing several Twin Cities stores with a machete.
Criminal complaints say Abdikadir Ayanle Ali, 32, robbed several stores in the Twin Cities, including several Target stores in St. Paul multiple times, while carrying a machete.

He is charged with four counts of first-degree aggravated robbery, according to criminal complaints. Each count carries a maximum sentence of 20 years and/or a $35,000 fine.
According to a criminal complaint, an employee at the Target at 1300 West Lake Street in Minneapolis saw a man later identifed as Ali using a large, serrated machete to cut security packaging from cellphones in the store on Nov. 11, 2018. The employee told police Ali then turned toward her, pointing the machete at her and said, "Get back, get away," the complaint says. After she ran away, surveillance video showed him leaving the store a short time later.
The story lists other robberies, and not just at Target.
After his arrest, complaints say Ali confessed he "hit" Midway Target at least 10 times, in addition to other Target stores in Highlands, Midway Walmart, TJ Maxx and others.
A complaint says Ali told police he stole the machete from Walmart and selected it specifically because of its size. He also is alleged to have told authorities that if staff saw him with the machete, they wouldn't stop him, but said he never threatened anyone, only used it to intimidate those he encountered.
Ali said multiple times that he knew better than to do what he did, the complaints state, but blamed the robberies on his meth addiction and his need to support his habit.
More here.
Photo is from this story.