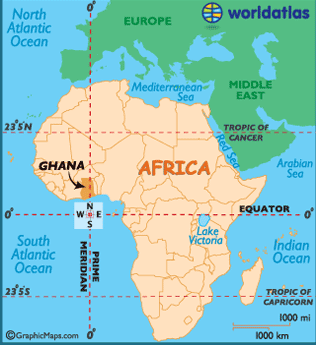 The West African country of Ghana refuses to take back its illegal aliens and criminals that Homeland Security is trying to deport, so it joins six other countries on a list of countries whose nationals will be prohibited from getting certain visas to visit the US for business or pleasure.
Before Trump, only two countries had been sanctioned!
From The Epoch Times (hat tip: TwoLaine):
Ghana Latest Nation Hit With US Visa Sanctions for Non-Compliance
WASHINGTON—The Department of Homeland Security has issued visa sanctions against Ghana for failing to accept their nationals that the United States is trying to deport.
The African nation is the seventh country hit with such sanctions by the Trump administration.


In 2015, Jean Jacques murdered Casey after he was released from detention because Haiti would not take him back.  https://www.theday.com/article/20160606/NWS04/160609458


In September 2017, Cambodia, Eritrea, Guinea, and Sierra Leone were sanctioned, and in July 2018, Burma and Laos were added.
The sanctions most-often involve the suspension of B visas (temporary visitors for business or pleasure) to government officials.
"American citizens have been harmed because foreign governments refuse to take back their citizens. These sanctions will ensure that the problem these countries pose will get no worse as ICE continues its work to remove dangerous criminals from the United States," then-ICE Acting Director Thomas Homan said in September 2017.
After six months, ICE is forced to release illegal immigrants who are in detention and ready for deportation if their country of origin won't accept them or issue travel documents for them. The six-month deadline is pursuant to a 2001 Supreme Court ruling, Zadvydas vs. Davis.
In 2015, a Haitian man, whom Haiti failed to accept back when the United States tried to deport him, was released after six months and subsequently murdered a 25-year-old Connecticut woman in her home.
[….]
Before Trump, only two countries—The Gambia (2016) and Guyana (2001)—were sanctioned for not accepting back their nationals.
More here.
Again, here are the countries that refuse to take back their frauds, crooks and criminals:
Cambodia
Eritrea
Guinea
Sierra Leone
Burma (we have hundreds of thousands here from Burma now, some are the Rohingya Muslims)
Laos
Ghana
How many of you knew about the Connecticut murder case?  I don't think I did.  It is cases like that we should be seeing widely reported on cable news and in the big papers, but rarely do!