And, get this, Mohamed Noor's defense attorney brought up the Somali police officer's early life in a refugee camp in Kenya, and Minnesota Public Radio makes a point of mentioning the makeup of the jury—half are white and half are "people of color" with several immigrants among the jury members.  Sickening the way this is being set-up!
If you are new to this story, see my post at Refugee Resettlement Watch from last year. There are links to follow for a review of the news that Noor killed Australian Justine Ruszczyk  (sometimes referred to as Damond, her fiance's name) when he says he feared for his and his partner's safety.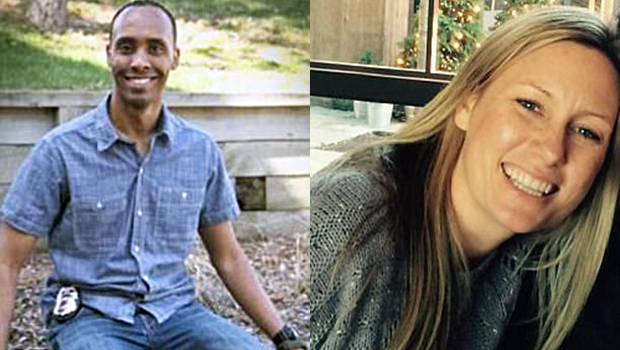 Here is what MPR said yesterday about the trial that opened yesterday in Minneapolis,
Noor trial: Sounds, figures, fears surface in first day of testimony
Was there a thump, or not? Did two officers in a dark Minneapolis alley have reason to fear for their lives, or not?
Those crucial questions surfaced Tuesday during opening statements in the trial of Mohamed Noor, the ex-Minneapolis police officer charged in the shooting death of 911 caller Justine Ruszczyk.


Noor with his attorneys, that is Peter Wold on the left.  Photo from last year. https://www.mprnews.org/story/2018/09/26/ruszczyk-damond-police-shooting-noor-court-minneapolis



Noor's lawyer argued the officer fired his weapon to protect his terrified partner in an alley after seeing a figure by the driver's side window of his police squad raise their right arm.
Calling it a potential "ambush scenario, a setup," Peter Wold told jurors that Noor feared for his life and his partner's life as they responded to a 911 call.
Noor, he said, fired after his partner, officer Matthew Harrity exclaimed "Oh Jesus" after hearing a thump or bang on the squad.
Prosecutors, however, argued that the thump was a story that was made up later — that no police at the scene that night talked about a thump on the squad. Assistant Hennepin County Attorney Patrick Lofton told jurors that experts will testify Ruszczyk, who was in her pajamas, could not be considered a threat.
The prosecution also reported officers at the scene turned their body cameras on and off, including the sergeant who took Noor's statement, meaning there is no audio of that encounter, just silent video.  [What! the police were protecting Noor?]
Noor is charged with second- and third-degree murder and second-degree manslaughter in the killing of Ruszczyk, also known as Justine Damond, in July 2017.
She had called 911 to report what she thought was an assault happening behind her home.
Investigators say Noor, one of the responding police officers, shot Ruszczyk through the open driver's side window of the squad. He's only the second officer to be charged in an on-duty killing of a civilian in Minnesota.
Here we go, sympathy play to the jury about Noor being a refugee!
Wold talked to jurors for 25 minutes about Noor's history, saying he'd been born on a small farm in Somalia and immigrated with his family to the United States as a 7-year-old after living in a refugee camp in Kenya.
Who are the Jurors?
They are 12 men and four women, including alternates. Six appear to be people of color or indigenous or have identified themselves that way.
[….]
Several talked about their experience as immigrants.
None of the jurors of color are alternates. So, in final deliberations, the verdict could be decided by a 12-person jury that appears to be half white and half people of color.
Race has been at the center of this trial already with questions for the jury about implicit bias and whether any of them have had negative experiences with Somali people.
More here.
Heck, why wasn't there a demand for six jurors to be Somali?  (I'm joking of course, but I can see that in Minnesota's future!).