In January the BBC outlined three issues (immigration is one issue!) that could cause Canadians to rethink their support for the progressive boy wonder.
But, here comes a fourth that has become fodder for the conservative opposition as Canadians vote later this year for a prime minister.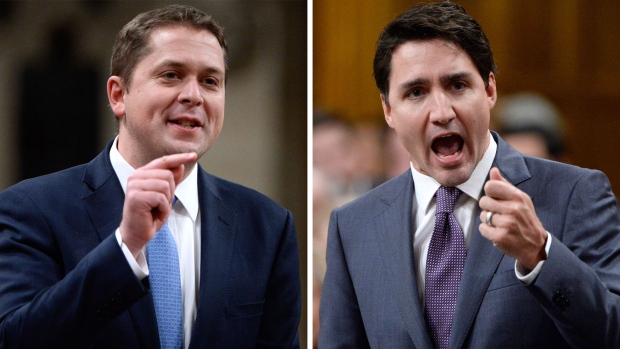 The scandal involves big money, bribery charges, the resignation of top aides and Libya.

Here is The Guardian a few days ago,
Explained: the case that could bring down Canada's Justin Trudeau
What is going on in Canada?
Canada's prime minister, Justin Trudeau, is facing the biggest political scandal of his administration.The affair centres around allegations that his former attorney general, Jody-Wilson Raybould, was improperly pressured by some of his closest advisers to prevent the prosecution of a large Canadian engineering firm over accusations of fraud and bribery. Thus far, the scandal has been politically costly; Gerald Butts, a longtime friend of Trudeau's, and his closest adviser, resigned two weeks ago. Wilson-Raybould has resigned, too. A handful of polls are showing the scandal is politically unpopular for the governing Liberals – which is worrying for them, given there is a federal election in October.
What is the company accused of?
SNC-Lavalin, based in Montreal, is accused of paying C$48m worth of bribes in Libya to Muammar Gaddafi's family, in order to secure lucrative contracts. The bribery is alleged to have occurred between 2001 and 2011. If found guilty, the company would be barred from bidding on federal projects for a decade. SNC-Lavalin employs nearly 50,000 people worldwide, with 3,400 in Quebec.
Company executives have been lobbying for a "deferred prosecution agreement", which in effect allows them to pay a fine in lieu of a criminal prosecution, with no ban on bidding for contracts. But federal prosectors have decided to pursue a trial.
This is where the scandal is centred: the prime minister and his aides, along with the finance minister, have been accused of pressing Wilson-Raybould to intervene and asking prosecutors to accept a deferred prosecution agreement. Wilson-Raybould declined to override the judgment of her top legal team.
[….]
Is it a big deal?
The leader of the opposition, Andrew Scheer, has called on Trudeau to resign –something Trudeau has rejected. Other political leaders have called for more investigations into the affair – and the country's ethics commissioner is investigating.
Why should we care? 
Because Trudeau has been a disaster for those who want to limit immigration and his open door policy toward Syrians and others from Africa and the Middle East could ultimately have a negative effect on us—making our northern border a security problem!