Surely you have seen the news before now, but I would be remiss if I didn't give you the ending to the latest assault on President Trump and you, the America Firsters who these people despise.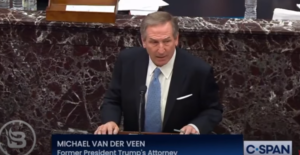 It was riveting TV, well at least the defense lawyers were inspiring, Raskin not so much.
The defense's testimony featured videos of the hateful threatening language used by Democrats and their supporters as they encouraged rioters who burned and destroyed American cities in 2020.
Keep these videos handy and use them extensively in the days and weeks ahead.
Day 4: President Trump's Impeachment Defense Team was Superb
By the way, it was reported on Fox last night that yesterday's primary defense lawyer, Michael Van der veen, had experienced attacks to his family home and law firm from the crazed Biden/Harris/Pelosi lovers.  At least a hundred death threats were reported.
Following his acquittal, President Trump issued the following statement.  This line stands out:
"Our historic, patriotic and beautiful movement to Make America Great Again has only just begun. In the months ahead I have much to share with you, and I look forward to continuing our incredible journey together to achieve American greatness for all of our people. There has never been anything like it!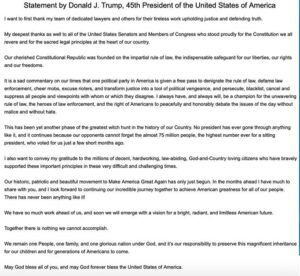 Disgraced, in addition to Senator Mitch McConnell who apparently hates the President so much that he took to the Senate floor following the vote to blast him, are seven Senators who voted to convict the President in what Trump's lawyers meticulously showed was a shameful and unconstitutional witch-hunt.
Even if you didn't like Trump, the vote to convict was clearly wrong for the future well-being of our Constitutional government.
If one of these is your Senator, speak up where you live.  But whatever you do, don't stoop to the level of the creeps who vandalized the home of Trump's defense attorney.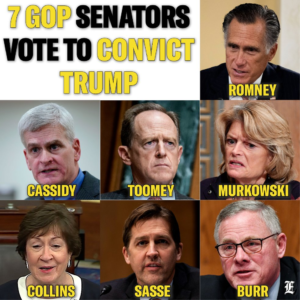 In some ways, I wish we had heard from witnesses, because one of the most pressing questions remaining, at least for me, is this one:
What did Nancy Pelosi and Mitch McConnell know from law enforcement about the coming attack on the Capitol, and yet obviously did nothing to beef up security in advance? 
Either our supposedly great FBI was caught flat-footed by an assortment of troublemakers or they knew what was coming and nothing was done to stop it.  Very scary either way!
I suspect it is that question that the Dems feared when they backed down on their last minute demand for witnesses.