Editor:  I have a huge backlog of stories to post here at Frauds and Crooks and hope to do a news round-up post to catch up in the coming days.  A reader recently suggested that I should consider just sending out straight news without my editorial comment. I think I'll try to do a little bit of both going forward and the news round-up will help with that by giving you more information with less words!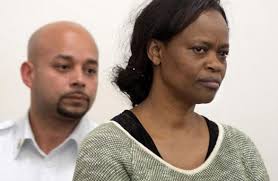 However, this story from Massachusetts caught my eye for a couple of reasons and is worth posting in greater detail.
It might not have been worth posting at all if it weren't for the revelation that the convicted home health care provider was able to send $1.5 million of ill-gotten gains out of the country just before her arrest.
And, the story is important because home health care 'businesses' are rife with fraud and keep turning up in my searches for medicare and medicaid scam stories.

The headline (below) in the Worcester Telegram is deceptive—-former teacher!  She taught for three years in the early 2000s after coming to the US on a scholarship in 1998.
How was she even permitted to stay for decades?
Former Worcester teacher convicted of $2.5 million Medicaid fraud
WORCESTER – A jury has convicted a former Worcester teacher of stealing $2.5 million from the state's Medicaid program, Attorney General Maura T. Healey announced Wednesday.
Hellen Kiago, 48, of Sturbridge, is set for sentencing May 24 after a conviction in Worcester Superior Court on charges related to allegations she fraudulently billed MassHealth through a home health agency she owned, Lifestream Healthcare Alliance.
According to Ms. Healey's office, jurors after a 10-day trial ruled that Ms. Kiago defrauded MassHealth in several ways, including by billing it for services not authorized by doctors and directing employees to assist patients for longer time periods than was needed.
"Kiago also directed employees to falsify documents to hide wrongdoing including forging physician signatures during a MassHealth audit and creating false corrective orders," the attorney general's office said.
Ms. Kiago was convicted of four counts of filing false Medicaid claims and one count of larceny over $250 by false pretenses, the attorney general said.
[….]
At her arraignment, a prosecutor told a judge that Ms. Kiago transferred $1.5 million to Kenya – where the father of her child lived – within weeks of having her offices in Worcester and Dracut searched. She also quickly married a fellow Lifestream employee, Cheyne Johnson, and received her green card.
At the arraignment, defense attorney John George Malloy said Ms. Kiago came to the U.S. from Kenya on a scholarship in 1998. The recipient of two master's degrees, she was a teacher in Worcester from 2001 to 2014, the lawyer said. [I doubt she has two master's degrees, but who cares anyway. And teaching for three years is no reason to look favorably on the cheater's character!—ed]

I'll try to remember to get back to this story after she is sentenced later this month.  Or, if you see the news before I do, let me know!