I guess Jama Osman will have to convince a court of that, but it sure looks like the feds have got the goods on him!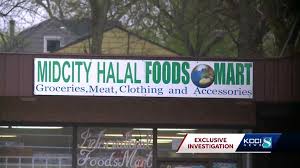 The feds are suing him and want the three homes Osman allegedly purchased with taxpayer dollars stolen from SNAP and WIC programs.
By the way, when you read the story note that he uses a tactic that I haven't seen before that involves allowing customers to scan bar codes for approved items, but then giving them some cash back (after he took his cut!).

The story is here at KCCI Des Moines,
Market accused of stealing from food assistance programs
DES MOINES, Iowa —
Federal investigators accuse a Des Moines ethnic market of stealing money from state and federal food assistance programs.
The U.S. Attorney's Office is suing Osman Jama, owner of the MidCity Halal Foods Mart, to take possession of three homes it believes he purchased with money taken fraudulently from state and federal food assistance programs.


One of three houses Osman allegedly purchased with money stolen from us—the taxpayers.


In a 47-page complaint, investigators accuse Jama of scanning bar codes on a sheet of paper for SNAP- and WIC-approved items, then allowing customers to take cash or non-approved items for less than the value he charged.
SNAP and WIC policy does not allow participants to use the cards to withdraw cash from their accounts.
Investigators said MidCity Halal Foods Market received $1.9 million more from food assistance business than any other market their size in the area from March 2015 to March 2019.
Jama declined an on-camera but let us in to record in the store. He called the accusations against him lies and said there is a misunderstanding.
Investigators report that MidCity did 45,750 WIC redemptions in January 2019, which was the same level of business as big box stores such as Walmart.
Jama attributes the numbers to the unique range of products his market provides.
MidCity sells items that specifically appeal to African immigrants — including halal meat, which is meat slaughtered according to Islamic religious standards.
Okay, fine and dandy, get the homes, but how about sending the 'new American' crook to jail and then deporting him.  Or just deport him and save us the expense of incarceration.
Look around where you live, do you have an "ethnic market" nearby? If so, note how much foot traffic is going in and out every day and if it seems excessive you should consider alerting authorities.