Wow this is some story! Before I began writing Frauds and Crooks, I knew there were some complicated frauds being perpetrated on us by unsavory members of the 'new American' community, but I continue to be surprised at the audacity and criminal intent of some of those we have welcomed to America.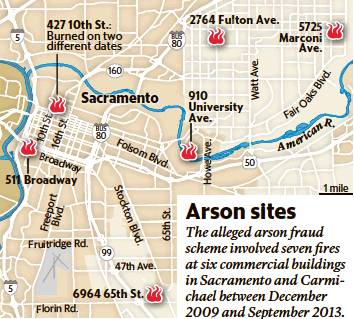 This case involves two Middle Easterners and their American attorney who happens to be the father of Airman Spencer Stone who was one of three men credited with stopping that Paris-bound train terror attack in 2015.  Too bad for Brian Stone who was disbarred and was sentenced to six years in the big house.
The last of the trio of insurance fraudsters was sentenced this week.
Not only were they convicted of insurance fraud, but the elder of the two Middle Easterners had been earlier barred from participating in the food stamp program because he had been busted for ripping us off there too!

From the Claims Journal,
A federal judge on Thursday sentenced the last of three defendants involved in an arson fraud scheme, which led to seven Sacramento fires, to four years, nine months in prison.
U.S. District Judge Morrison C. England Jr. also ordered 76-year-old Saber A. Shehadeh to pay $1,031,081.66 in restitution. Prosecutors had sought a 71-month sentence, saying that Shehadeh and his co-conspirators had profited handsomely from $1.4 million in insurance payments from State Farm Insurance Co.
"Shehadeh was an important part of a serious, carefully planned scheme that took place over an extended period of time, and capitalized on a fire that put the lives of his own tenants in danger, while repeatedly seeking to deceive State Farm," U.S. Attorney McGregor W. Scott's office said in a sentencing memorandum.
In 2009, Shehadeh's corner grocery in downtown Sacramento wasn't doing well. He had been convicted of food stamp fraud the year before and his Tru Value Market had been suspended from the federal program. That placed his license to sell alcohol in jeopardy, federal prosecutors said in court papers. Shehadeh bounced mortgage checks and frequently overdrew his bank account.
Then on Dec. 27, 2009, Tru Value Market was damaged in a fire. The historical building that housed the market and a building next door — also owned by Shehadeh — were destroyed by a second fire nine months later.


Try as I might I could not find photos of the two Shehadehs. There are plenty of Brian Stone.


The $1.03 million payment from State Farm Insurance Co. was enough to pay off the $384,000 mortgage on the building with several hundred thousand left over to invest in new businesses and share with family members, prosecutors say.
One of those family members was cousin Jamal Shehadeh, the convicted ringleader of the arson fraud scheme. According to court papers, Jamal admitting to planning the Tru Value Market fire with Saber Shehadeh and a disbarred attorney, Brian Stone.
Jamal Shehadeh was paid "at least $122,000" for his troubles, prosecutors say.
Jamal Shehadeh also was accused of participating in a scheme to set fire to five other Sacramento buildings. After the buildings burned, he ordered repairs to be done by construction companies in which he had a silent interest, prosecutors say. Court papers say the scheme, in total, netted $1.4 million in insurance payments.
[….]
Jamal Shehadeh pleaded guilty to two arson charges in February 2018 and was sentenced to 30 years in prison. A jury convicted Stone, the disbarred attorney who assisted in the fraud scheme, to 13 counts of mail and wire fraud in April 2018. He was sentenced to six years in prison.
More here.
The US Justice Department press release at the time of Saber's conviction is here.
But it gets worse…..
See this story about Jamal Mustafa Shehadeh who got 30 years, but could have gotten a whole lot more (and should have!).
By the way, I'm guessing the Shehadeh "cousins" are Palestinians, just Arabs we are told.  As usual there is no mention of their immigration status or nationality.
Arson suspect pleads guilty in case involving train hero's father
Jamal Shehadeh was accused of a series of four arsons and seven fraudulent insurance claims, and was suspected of more than a dozen others, according to court filings by Assistant U.S. Attorneys Michael Anderson and Christopher Hales.
He faced a minimum sentence of 55 years if convicted on all counts, and a maximum of 1,180 years, court documents say.
"Shehadeh is a serial arsonist and insurance fraud who has evaded prosecution for decades while endangering members of the community," prosecutors wrote in a court filing in March 2016, when Shehadeh was attempting to win his release on bail.
"In this criminal endeavor, Shehadeh has been assisted by his reputation within the Sacramento Arabic speaking community for arson and for killing potential prosecution witnesses," prosecutors wrote. "This reputation, unfortunately, is based in fact."
[….]
Portions of the case have been shrouded in secrecy because of claims by prosecutors that some evidence is governed by the Classified Information Procedures Act.
Judge England ruled in October 2016 that some information in the case "implicates the government's national security and classified information privilege because … its disclosure could cause serious damage to the national security of the United States."
Prosecutors also accused Jamal Shehadeh of violence, and tied him in court filings to the 1996 slaying of a woman who had recently come to the United States from China.
Tong Fang Huang was found slain with a single shot to the back of the head inside Jim's Market, a Stockton Boulevard convenience market, and had a $250,000 life insurance policy payable to her boyfriend, who was related to Shehadeh by marriage, prosecutors wrote.
"Witnesses have been reluctant to cooperate with the FBI, citing Shehadeh's reputation and their fears that he will try to kill them if released," prosecutors wrote. "That reputation and those fears are supported by actual facts that are found in the cold case homicide file for the murder of Tong Fang Huang."
Disgusting is all I have to say!
Playing with fire?
I once had a reader at RRW who was very knowledgeable about the religion-of-peace types who told me that fire/arson was an important weapon for some of them.