But, wait just a minute, weren't these angry riots supposed to end once "Orange man" was gone from the White House?  Wasn't America going to be the land of peace and love once Donald Trump was given the boot via a stolen election.
What! No respect for Biden's America! 
And, where is the National Guard, busy acting as personal body guards for Pelosi and Schumer at the other end of Pennsylvania Avenue?
When I saw this news on Gateway Pundit, I immediately checked to see if any mainstream media was reporting on the latest BLM/Antifa agitation.  Didn't see a thing!
"Burn it Down!" – BLM-Antifa Terrorists March Through DC, Assault Police Officers, Harass Outdoor Diners (VIDEO)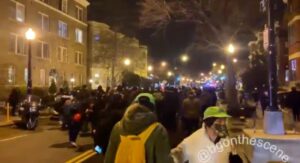 It's an inssurection!
This is Biden's America.

Antifa terrorists marched through Washington DC Saturday night chanting, "Burn it down!"
They want to burn down the city completely controlled by Socialist Democrats?
Go to Gateway Pundit to see the video's on Twitter.  Since Twitter has blocked my access, I can't get the links to embed those videos.
Actually now that Twitter has banned Gateway Pundit, I expect they won't be able to get the links either.
I am on Gab, but haven't figured out how to link Gabs into my blogs yet.  Alas, too many new things to learn.
Endnote:  You might want to visit RRW today where I spent my limited posting time trying to educate readers about a Trump refugee policy that Breitbart seemed to misunderstand.
I explained that when Trump attempted to reform the Refugee placement process to give state and local governments some say-so in placement, it was mostly the REPUBLICAN GOVERNORS WHO DID NOT BACK TRUMP that went a long way to sink the policy.
Just so you know, the latest Republican darling, SD Governor Kristi Noem, was one of 18 Rs who did not back Trump's reform effort.
Trump Initiative to Give State and Local Government a Say in Refugee Resettlement was DEAD Before Biden EO