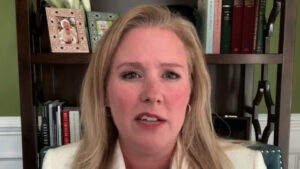 Yesterday I wrote about Elizabeth Neumann, a former Republican big wig at the Department of Homeland Security who claimed she supported the President initially because she is pro-life, but decided to work against him because he cut back on immigration and talked mean "racist" talk. Talk, she says, that makes America less safe.
So much for her devotion to life as she actively worked on behalf of pro-abortion Biden/Harris, making innocent babies less safe. See here.
Neumann has described herself as "first and foremost a follower of Jesus Christ," and her 2016 decision to vote for Trump as "primarily because of the pro-life issue."
She subsequently re-examined her earlier convictions (?) and concluded that admitting 125,000 refugees a year is more important than babies!  She claims America is safer when we open our borders.
I'm posting this here because I am not sure how many of you see Refugee Resettlement Watch and because I have a category here specially made for posts like this—political rats.  That is a category I originally made when I wrote about the Lincoln Project, but it has come in handy.
Anti-Trump RINO Pushing Biden's 125,000 Refugees-a-year Agenda; says it will Strengthen America