I know, I know, it isn't kosher to speak ill of the dead, but really, can we now stop gushing over Justice Ruth Bader Ginsburg?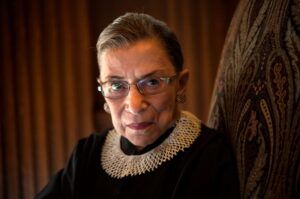 I began paying a little attention to her while writing many posts at Refugee Resettlement Watch about the hellhole that South Africa has become since Nelson Mandela and his ilk took over the country and turned it into a supposed Nirvana, claiming it is now the "rainbow nation" where love and peace reign and fairness for all is written in their constitution.
(If you haven't seen my archive on the "rainbow nation" click here.)
Have a look at that constitution (it says everyone has a right to everything!) and you will see why Africans from across that continent flooded there only to experience xenophobia on a level greater than any country in the world.
Ginsburg reportedly praised that commie constitution over the US Constitution, although her fan base claimed her comments were taken out of context.  See Foreign Policy for one version of the 2012 controversy.
One writer who isn't sending air kisses to Ginsburg is Frank Miele opining at Heartland Diary (hat tip: Paul):
RBG has a remarkable legacy — but so do Lenin and Mao. Please stop praising her if you are a conservative!
Democrats are accusing Republicans of being hypocritical, and they are, but not because they want to vote to replace Ruth Bader Ginsburg during an election year.

The real reason they are hypocritical is because they don't have the cojones to call Ginsburg what she was — a hard-left Democrat extremist who was only interested in using her position on the Supreme Court to fundamentally transform the United States into a politically correct, disarmed socialist republic. Her support for a woman's right to choose to kill her unborn child is partly responsible for the deaths of millions of babies.

How do Republican senators square that with their effusive praise of her? Simple. As I already said — hypocrisy. Can you imagine Democrats praising Donald Trump as the most significant president of the last 75 years (or more) when he dies? Hell no, because the Democrats know he was their sworn enemy. Republicans are too cowardly to tell the truth about Ginsburg.

A random sampling of the Republican praise for Ginsburg should prove the point:
Go here to read it all!
Thank God we have Trump in the White House!  Almost every other Republican you can think of (if he/she was President at this auspicious moment in history) would be tucking tail and running and attempting to show that they are good people by not pushing forward with a nominee for Ha! Ha! "Ginsburg's seat!"