She says she is concerned that the criminal Somalis being deported will take the Chinese Virus with them to Somalia! 
Is she representing Somalia or America?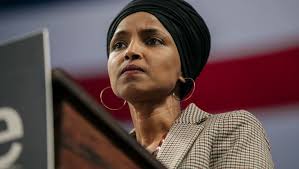 BTW, when I first started writing about Somali refugee criminals and terrorists, the US was not deporting any of them claiming it was not humane to send migrants home to hellhole countries.  My! My! how times have changed!
From Fox News:
ICE deportation flight, objected to by Omar over COVID fears, included convicted murderer, rapist
Omar had said it was 'cruel' to deport immigrants during a pandemic
An Immigration and Customs Enforcement (ICE) deportation flight to Somalia — which faced objections from Rep. Ilhan Omar, D-Minn., due to fears about the potential spread of COVID-19 — included criminals with convictions for rape, murder and assault, the agency said in a letter to the congresswoman.

"This week, ICE removed 39 Somalia nationals, 36 of whom have criminal histories," Acting ICE Director Tony Pham said in a letter to Omar. "These crimes include murder, rape, domestic violence, assault, sexual assault, crimes against children, drug trafficking, and conspiracy to provide material support to a foreign terrorist organization."

He also included a list of case backgrounds that he said "should give you reason to applaud the good work ICE has done to protect the American people, including the people of the State of Minnesota."
Here is what ICE told her in a letter sent September 18th (sorry I couldn't get a clearer pic):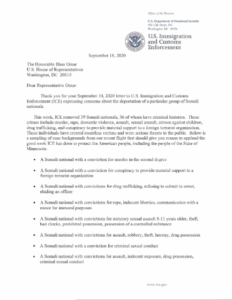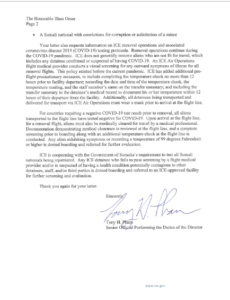 More of the Fox story is here.
See my Ilhan Omar file by clicking here.