The story is at Big League Politics (hat tip: Richard at Blue Ridge Forum):
Naval Academy Midshipman Convicted of Three Sex Crimes, Sentenced to 25 Years in Prison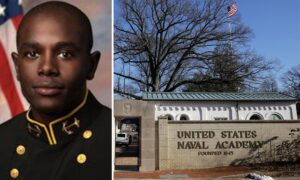 A midshipman at the U.S Naval Academy was sentenced on two counts of sexual assault, attempted sexual assault, burglary and obstruction of justice Wednesday, crimes that occurred in 2018 and 2019 and which targeted female classmates at the Naval Academy.

Midshipman Nixon Keago was sentenced to 25 years confinement, which will likely be served within the federal prison system.

[….]

A psychologist who testified in the trial proceedings emphasized that she believes Keago has a "low rehabilitation potential."The midshipman was convicted of one attempted home invasion sexual assault after being initially charged with sex crimes, suggesting a psychological propensity to commit the crimes.

[….]

Prosecutors convicted Keago of breaking into the rooms of three female midshipmen who were intoxicated, and sexually assaulting them when they were asleep. He attempted the same crime against a third victim.

Keago recounted during the trial immigrating to the United States from Kenya as a child. He previously served as an enlisted US Marine before being admitted to the Naval Academy.
Continue reading here and follow links above for more gory details.
BTW, we will likely never know how he got here from Kenya as a child placed with an adoptive family.  Was the family Kenyan too?  I'm curious, but not curious enough to spend time searching, so if you find something let me know!