And, the 'good doctor' Fauci was involved during the Obama Administration!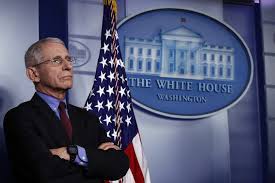 Why isn't this front page news everywhere?  Why does it take the Asia Times, Gateway Pundit, Powerline blog, and other smaller media to get this story out.
Thanks to reader Paul for alerting me to a Powerline blog post yesterday where blogger extraordinaire John Hinderaker wraps with this paragraph:
  Wouldn't it be great if we had a free press that might ask questions about reports like this one? The problem, of course, is that Dr. Fauci would be the guy on the hot seat, and he is a revered "expert" in the press's narrative. Even more important, Fauci's enlistment of the Wuhan lab to do research banned in the U.S. happened in 2015–that is to say, during the Obama administration. If it had occurred during the Trump administration, there would be nothing else on the front pages of the New York Times and the Washington Post.
Please go read it all!  Follow the links for more information.