Surely you have seen the news about the British professor Neil Ferguson who is the supposed brains behind the COVID-19 modeling that is now responsible for crashing (or near crashing) economies worldwide.

Thanks to reader Judy for sending me a story from this week about the coding model (now under scrutiny) used to justify the lockdown of the UK (and most of the world!) published at a new website entitled, Lockdown Sceptics, where there are posts almost daily critical of what the great minds have been telling us must be done to save us from certain death.
Author, Brit Toby Young, describes why he launched this website a month ago:
On Friday, April 3rd I wrote an article for the Telegraph about the tsunami of criticism I'd received after publishing a sceptical piece earlier that week about the Government's lockdown strategy. That piece appeared in the Critic and shortly after it was published I started trending on Twitter, with thousands of people denouncing me, often using intemperate language. In the Telegraph article I expressed my disappointment about this reaction and said people shouldn't feel shy about criticising the lockdown even if those views put them at odds with the majority. Our leaders are making decisions every day that will affect all our lives for years to come and it's right that we should debate their options in the public square.

In the days that followed the publication of the Telegraph article I was contacted by dozens of people, most of whom shared my reservations and were frustrated that the Government's decision to lock down the country wasn't being adequately challenged. Some had tried to get their views published in newspapers, either as letters or articles, but without success. That's why I've decided to set up this website. The idea is for it to serve as a hub for sceptical articles, papers and interviews that have appeared elsewhere, as well as a platform for lockdown sceptics to air their views in the form of comments.
Here is Lockdown Sceptics view of the titillating news you may have seen about the good professor.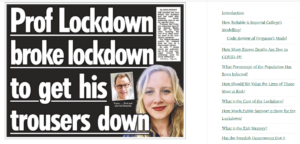 Be sure to have a look at the post critical of Ferguson's (flawed!) code responsible for our present miserable home detention.
Of course, I can't vouch for every word posted by Young (someone is surely going to tell me he is this, or he is that), or anyone, but the point is that we are all entitled to hear all points of view on truly the momentous point (so far) in world history that any of us alive today will likely experience.