….among other things!
Thanks to reader Judy for alerting me to the story at the Washington Times from yesterday entitled:
ICE, FBI agents took bribes to provide 'protection,' cook books on immigration cases, feds say
I'll let you read that yourself.  LOL! The story has so many twists that I figured it would be easiest to first check out the press release from ICE, here.
LOS ANGELES – A Calabasas man has agreed to plead guilty to five federal offenses – one related to a credit card bust-out scheme, and the others related to more than $250,000 in bribes he paid to two federal agents for assistance that included sensitive law enforcement information.

Photo at Linked In: https://www.linkedin.com/in/edgar-sargsyan-913925153

Edgar Sargsyan, 39, an attorney with law offices in Beverly Hills, was charged today with conspiracy to commit bank fraud, two counts of bribing a public official, and two counts of making false statements to federal investigators. In a plea agreement also filed today in U.S. District Court, Sargsyan agreed to plead guilty to the five felony counts, which cumulatively carry a statutory maximum penalty of 50 years in federal prison.

In the plea agreement, Sargsyan admitted paying tens of thousands of dollars from the beginning of 2015 through early 2017 to a special agent with U.S. Immigration and Customs Enforcement's (ICE) Homeland Security Investigations (HSI) and a special agent with the Federal Bureau of Investigation.

[….]

Sargsyan paid the HSI agent at least $32,000 in checks and at least $45,000 to $50,000 in cash in return for assistance that included the HSI agent searching law enforcement databases to corruptly obtain information that he passed to Sargsyan, according to the plea agreement. The HSI agent also altered a Department of Homeland Security database to make it more likely that a foreign national who was a client of Sargsyan's law firm would be allowed to enter the United States. In another corrupt act detailed in the plea agreement, the HSI agent prepared a document on HSI letterhead in an unsuccessful attempt to have one of Sargsyan's relatives from Armenia admitted into the United States.

Sargsyan also admitted he paid the FBI agent monthly cash bribes of up to $10,000 beginning in 2015 in exchange for the agent providing protection, which included running queries on law enforcement databases and warning Sargsyan to stay away from certain individuals who were the targets of criminal investigations. The agent, who worked out of the FBI's San Francisco Field Office, accepted the cash payments on trips to Southern California, where he stayed at luxury hotels that were paid for by Sargsyan. The FBI agent also accepted from Sargsyan a $36,000 racing motorcycle as a bonus for running database checks on a particular person. Sargsyan also gave the FBI agent a $30,000 cashier's check that was made to appear to be a payment to the agent's business, according to court documents.

In his plea agreement, Sargsyan also admitted he participated in a conspiracy that defrauded financial institutions by fraudulently obtaining credit cards in the names of aliens who had previously been in the United States on J1 visitor visas. Once the credit cards were issued by the financial institutions, Sargsyan and his co-conspirator charged purchases, including more than $941,000 that Sargsyan personally charged at two businesses he controlled, Pillar Law Group and Regdalin Group.
Who is the alleged corrupt FBI agent?
His name is Babak Broumand: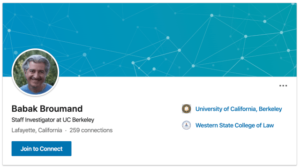 From the Los Angeles Times:
Beverly Hills lawyer is at center of FBI agent corruption scandal, sources say
The FBI agent charged last week, Babak Broumand, ran Cisneros' and Dermen's names in restricted law enforcement databases, according to an affidavit supporting charges against Broumand. The queries showed both men were the subjects of ongoing investigations, the affidavit said.

Broumand retired last year after a 20-year career at the bureau. Prior to his departure, he was assigned to the FBI office in San Francisco, trusted with recruiting sources for investigations into national security matters. It was unclear from court records whether he'd retained an attorney.
Learn more about Broumand here:
East Bay FBI Agent Took Bribes From Armenian Mob, Feds Say
Now get this!
If there isn't another Edgar Sargsyan  in the Los Angeles area we find his name pop up again in a 2018 report from Fox News:
Clinton donor's dealings and murky connections questioned by watchdog group
EXCLUSIVE: The murky nature of Hillary Clinton's former presidential campaign fund continues to rise to the surface.

Fox News has learned that one of the top donors to the "Hillary Victory Fund" (HVF) in 2016 was a Los Angeles-based attorney who is alleged to have misused company funds to create his own $22 million real estate portfolio. He has also been considered by California to be one of the state's biggest tax cheats, and allegedly has ties to the Kremlin.

The donor, Edgar Sargsyan, contributed $250,000 to the Hillary Victory Fund in 2016, according to Federal Election Commission (FEC) filings, ands chaired a $100,000-a-couple Clinton fundraiser in Beverly Hills in September 2016. He is also being sued by his former company for allegedly diverting those funds to start his own real estate company.
There is much more in each of the links above!
I sure wish I knew how to draw one of these for this story!