Dallas County Jail is a hotspot for COVID-19 and as a result many prisoners have been released.
According to Fox4News yesterday:
Officials release 1,000 inmates to ease crowding, slow spread of COVID-19 at Dallas County jail
DALLAS – Jails across the country are seeing more and more inmates and workers infected. In Dallas County, there is an effort to control the spread by releasing some inmates.

The Dallas County Sheriff's Office has confirmed 42 positive cases of COVID-19 in inmates. That's 30 more than were reported this past week. Another 16 detention officers and deputies have contracted the virus, although two of those officers have returned to work.

About a thousand inmates have been released from the Dallas County jail to help reduce the risk of transmission of COVID-19 inside the facility. Inmate advocacy groups applaud the move, but still have concerns.
They say only non-violent offenders have been released. See the whole story here.
However, a lawsuit filed by prisoners held at the jail filed last week seeks to have all prisoners over the age of 50 released.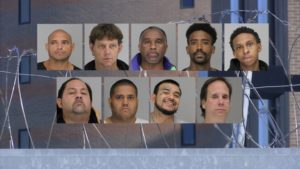 From WFAA News:
Dallas County inmates file federal lawsuit asking for release amid soaring coronavirus cases
A group of inmates at the Dallas County jail filed a federal lawsuit Thursday to demand immediate release for inmates who are over 50 and considered "medically high-risk" for the coronavirus.

The suit also calls for the jail to implement social-distancing guidelines and provide COVID-19 tests at no cost.

[….]

The federal lawsuit claims the jail has "failed to protect the present population of detainees, employees and the larger community against the racing spread of COVID-19."
Okay, okay, so what does this have to do with the notorious Kenyan Killer Billy Chemirmir?
The State of Texas, in a brief seeking to intervene in the federal case, cites Chemirmir, the alleged murderer of over a dozen senior citizens housed there awaiting trial, as exhibit A of why the case filed by inmates seeking to release all prisoners over the age of 50 due to COVID-19 fears is ridiculous.
See here (emphasis mine):
Plaintiffs would have the Court order injunctive or "habeas" relief releasing a class of individuals defined as "[e]veryone in the Dallas County Jail."1 Their requested relief covers killers, rapists, arsonists, and armed robbers. Plaintiffs want this Court to empty the jail and in the process ignore (1) state court judgments imposing custodial sentences; (2) detainer and transfer requests from other sovereign governments; and (3) state court bail orders. And they ask for this extraordinary relief without certifying a class or trying to satisfy any of the Prison Litigation Reform Act's requirements.

See my extensive file on Chemirmir here: https://fraudscrookscriminals.com/?s=Billy+Chemirmir

The effect of Plaintiffs' ask is extraordinary. It would include Billy Chemirmir, possibly "one of the state's most prolific serial killers."2 Chemirmir is accused of murdering 12 women—all between ages 75 and 94—by smothering them to death and making off with their jewelry. A state court judge set secured bail at $13.6 million.3 The federal government, moreover, has filed an immigration detainer *** with the Dallas County Jail, which means Chemirmir will be deported in the very unlikely event he ever steps foot outside of jail again.4 And now Plaintiffs ask this Court to consider setting him free because he, and others like him, might possibly be exposed to COVID19. It is obvious that releasing Chemirmir, and other violent felons, threatens the public's safety, something echoed by law enforcement and victim's rights advocates.5 That alone demonstrates the State's interest in this case.6

The release of more than 5,000 prisoners during a state-wide pandemic not only places law-abiding citizens at risk of re-offenses, but also imperils the State's efforts to effectively protect the public health in response to the spread of COVID-19 because the added strain that it would place on law enforcement.

The State of Texas, the Governor of Texas, and the Attorney General of Texas("State Intervenors") seek to intervene to defend the continued custody of Plaintiffs' would-be class. Because this case implicates State law at every turn, the State Intervenors have an interest in the outcome. They also have an interest in protecting the public's health and safety in the wake of the coronavirus pandemic. These interests are unrepresented in this case.
I fervently hope the victims' families will one day see this man in court.  Death by COVID would be too easy for him.
*** Interesting to see that they acknowledge his illegal status in the US!