Last night I saw this news from three days ago posted at an Arabic news site:
FBI Investigates Fire That Damaged Missouri Islamic Center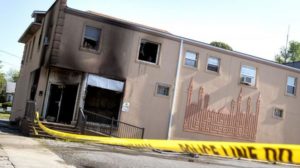 The FBI is offering a $5,000 reward for information leading to the arrest of anyone connected to a fire that badly damaged an Islamic center in southeastern Missouri and that coincided with the start of a holy month for Muslims.

[….]

The Missouri chapter of the Council on American-Islamic Relations, a Muslim advocacy group, said the fire began at the front door of the building. CAIR noted the timing of the blaze – Thursday night was the beginning of Ramadan, a holy month during which Muslims fast and pray."

Because the fire was deemed `suspicious,´ and because it occurred at a house of worship on a significant religious date, we urge law enforcement authorities to investigate a possible bias motive for the blaze," CAIR's national communications director, Ibrahim Hooper, said in a statement.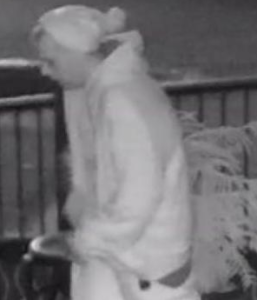 Now I see this morning that the police have charged a man caught on a surveillance video.
Grants for cameras….
I guess he was not aware that the feds give out grant money for houses of worship across America to purchase surveillance cameras.  See here.
From the St. Louis Post Dispatch:.
Cape Girardeau police arrest man in connection with Islamic Center fire
CAPE GIRARDEAU — Nicholas J. Proffitt, 42, of Cape Girardeau, has been arrested and charged in an arson fire Friday at an Islamic Center, police said.

Nicholas J. Proffitt, 42, of Cape Girardeau, in a mugshot provided by police.

Police in Cape Girardeau said Proffitt was in custody Monday and being held on a a no-bond warrant. He was charged with first-degree arson, first-degree burglary and first-degree property damage.

The fire happened Friday morning, on the first morning of Ramadan, a Muslim holy month during which Muslims fast and pray. The center for Muslims to gather is at 298 North West End Boulevard in Cape Girardeau.

About 12 to 15 people were evacuated from the scene of the fire early Friday but no injuries were reported, Cape Girardeau Fire Chief Travis Hollis said. The building had significant damage."
By the way, there is some news in the case of the hate phone call received by  Amani al-Khatahtbeh who is running for Congress in NJ.  No arrests, but over 200 women leaders have condemned the act.  Not a surprise that these three signed the letter:  Congresswoman Rashida Tlaib, Congresswoman Ilhan Omar, and Linda Sarsour.