There are some good things that will come from the Chinese virus crisis and one of those just could be a resurgence in the 'Made in the USA Movement.'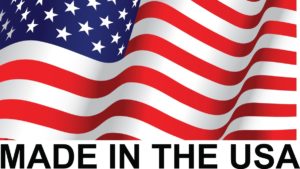 Frankly, I wasn't paying much attention to where my purchases were being produced, whether it was a new mattress or the food I've been putting in the freezer.
LOL! Our microwave quit a few months ago and my husband insisted we find one made in America. No luck after hours of research on the net and a phone call to our local appliance store. So now we get by the old fashioned way—without one!
However, the Smithfield Foods fiasco and the near complete dominance of China in many aspects of our consumer lives that has been revealed in recent weeks has me paying more attention.
Many of you may have seen a facebook post circulating which makes a couple of claims including these:
FOOD FROM CHINA… Smithfield Farms, the largest pork producing farm in the USA, was sold in September to China with the unanimous support of its stockholders! The hogs will still be raised here, but slaughtered and packaged for sale there before being sent back here.

[….]

Chickens

The same applies to many chickens. They can now be shipped there, but when they come back all that needs to be labeled is that they 'WERE RAISED IN THE USA'. Not that they were processed in China!!!
This morning I wanted to see where the information was coming from and what was being said about it.
I don't believe anything that the biased Snopes says, so I didn't go there.  And, I am not saying that USA Today's " fact checkers" are any more reliable, but they did provide some information especially about the ownership of Smithfield Foods that appears legit.
LOL! But USA Today glossed over some of the other issues raised in the post.
By the way, it makes no sense to raise hogs here and ship them live to China for processing as the facebook post claims is happening.  Indeed that is why China bought at least one BIG MEAT company here—much easier to ship pork to China and elsewhere once it is packaged!
For readers of Refugee Resettlement Watch you might recall that China was looking to build and own a beef plant in Montana a couple of years ago.  It only makes sense to go where the cattle are still on the hoof and slaughter there!
I searched around and found an organization called "The Made in America Movement."  I'm way out of my comfort zone on this topic so I can't vouch for them, or others like them, but it is worth having a look!
So, now I am headed to the freezer to read some labels!