So much for the President halting all immigration to the US during the on-going Chinese virus crisis.  See yesterday's post.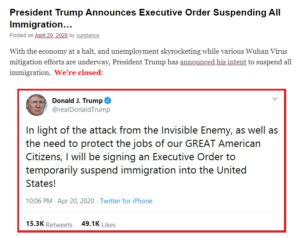 Today we have Politico (of all places) describing what is believed to be the direction President Trump's executive order on immigration might take when it is revealed possibly today.
Trump's immigration pause falls well short of full ban
On Monday night, President Donald Trump vowed he would suspend immigration into the United States during the coronavirus outbreak.

On Tuesday, he unveiled his plan. It was far short of a full ban.
Trump announced that he will sign an executive order blocking most people for 60 days from receiving a permanent residency visa, or green card. But the order will still allow the government to continue processing visas for hundreds of thousands of temporary employees, including farm workers, landscapers and crab pickers — the largest source of immigration.

The order is also expected to carve out additional exemptions for so-called essential employees, including health care workers, and immigrants who come into the United States through immediate family members, according to a person familiar with the situation.

Trump, who will sign the executive order as soon as Wednesday, said the measure will be reassessed in two months.

"It would be wrong and unjust for Americans laid off by the virus to be replaced with new immigrants, labor flown in from abroad," Trump said at the daily White House briefing, nodding to the 22 million Americans who have filed for unemployment in recent weeks. "We must first take care of the American worker, take care of the American worker."

[….]

The move angered conservatives who were hoping the president would go further. The Trump administration has already paused most routine visa processing and refugee cases during the coronavirus pandemic, meaning the president's executive order may be redundant for many already-stalled cases. Moreover, a majority of immigrants seeking green cards are already living in the U.S.
The Administration has not paused the Special refugee status for Afghans.
Mark Krikorian

"Briefly delaying green cards for people, most of whom are already in the U.S. and working, and ignoring work visas doesn't help U.S. workers and doesn't ease pressure on hospitals, " said Mark Krikorian, executive director of the Center for Immigration Studies."Can't know for sure until there's actually something official to read, but this looks more like a political gesture than a serious policy move."

[….]

"To continue most immigration at this time would show a callous disregard for those Americans who are enduring deep economic suffering," said Roy Beck, president of NumbersUSA, which supports immigration restrictions.

[….]

Trump's announcement had his critics decrying the move as a transparent attempt to rile up the president's base in an election year, while distracting from the ongoing criticism of his coronavirus response.
Tell the President what you think!  The White House contact information is posted in my right hand sidebar, please use it from time to time.