Update July 25th

:  Dallas DA going for death penalty, see here.
This is a story the national news is not touching! 
Billy Kipkorir Chemirmir who is now behind bars and with an ICE enforcement hold on him is on his way to becoming one of Texas's most notorious serial murderers, but most Americans will never hear of the case.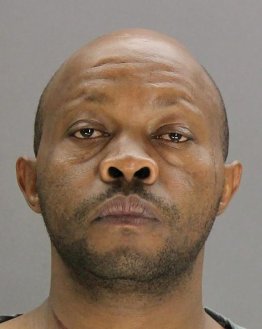 Why is that?  Because the man charged in twelve deaths (so far) of vulnerable senior citizens and suspected now in seven more (mostly very elderly women) is African (all but one of his alleged victims are white) and is here illegally.
And, because his crimes are so heinous I believe the media doesn't want Trump to know about it as immigration continues to climb in importance in the run-up to 2020.
Think about it! Women, like the latest possible victim, would be alive today playing with her great grandchild if law enforcement had removed this creep from the country years ago.
I'm not letting this case disappear, go here for my growing archive.  Frankly the story needs to be told in a full length book!

From the Dallas Morning News on Monday,
19th alleged victim of serial murder suspect Billy Chemirmir named in suit against senior complex
Between criminal indictments and civil lawsuits, the deaths of 19 people have now been linked to Billy Chemirmir, the serial murder suspect accused of smothering elderly North Texans for years without detection.


Doris Wasserman should not have died in this horrific manner.


The latest alleged victim, 90-year-old Doris Wasserman, was identified Monday in a lawsuit filed against The Tradition-Prestonwood. She is the ninth resident of the senior living facility to have been publicly identified as a possible Chemirmir victim.
Wasserman spent the afternoon of Dec. 23, 2017 playing with her great-grandson. Family left her alone at her apartment in The Tradition-Prestonwood around 3:30 p.m. When her family came back about 8 p.m., they found her lying on her bed, fully clothed and unresponsive.
Her walker, which she used to get around the apartment, was near the front door, not her bedside. She was also missing $8,500 worth of jewelry.
Physical signs pointed to a number of possible causes of death — including strangulation or suffocation — but Dallas police officers at the time "found no evidence of foul play," according to a police report.
Later, however, police told the family that Google tracking data put Chemirmir in the area of Wasserman's apartment from 3:05 to 4:31 p.m. that day.  [He must have been lurking nearby waiting for the family to leave!—-ed]
Chemirmir is in the Dallas County Jail in lieu of a $11.6 million bail. He has an Immigration and Customs Enforcement hold as he is in the country illegally.
The only reason he was caught is that one of his victims survived and was able to report what happened to her as the Kenyan Killer tried to suffocate her.
The Morning News continues….
In November 2016, after the deaths of eight alleged victims at The Tradition, staff there called police to report a suspicious man matching Chemirmir's description wandering the halls of the fourth floor, where many of the victims lived.

The man wore a nice suit and carried a satchel, telling people he was a maintenance worker there to check the pipes. According to a police report, officers told staff "to tighten security and possibly go door to door."
That was a year before Wasserman died.
[….]
While the complex claimed to have "surveillance cameras through the community" and "24/7 access control," the suit suggest that Chemirmir was allowed access to the complex through an unsecured parking garage and that no cameras were placed in residents hallways.
More here.
If you have elderly loved ones in assisted living or nursing homes be sure to check on the security systems they have in place.  Imagine an upscale home like The Tradition having no cameras in hallways!
Help me get this story out far and wide!
It really needs to be brought to national attention.  Just imagine if Chemirmir was a white Trump supporter charged with killing elderly black women! You would see this case blasted across the front pages of the New York Times and Washington Post.  It would be getting 24/7 coverage on CNN and MSNBC as well!