This is rich!
I've been reporting here and at Refugee Resettlement Watch ( for years before WordPress took it down) that a major lobbying group for more immigration to America—the New American Economy—is telling you to "welcome" the stranger.
But, darn don't put them in our hotels!
Here, before you read the latest from the do-as-I-say crowd, are the original leaders of the New American Economy.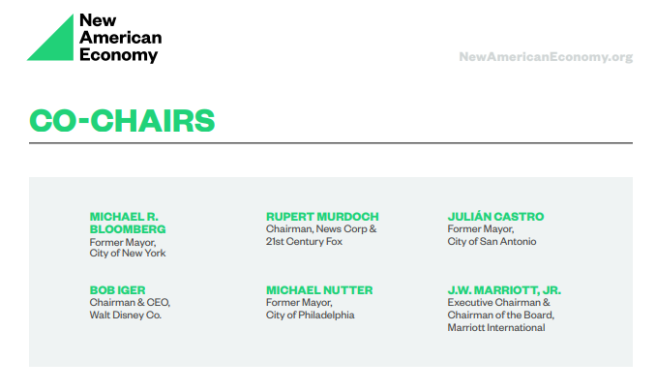 Although they make it sound like they are taking a principled stand on a political issue you can bet the driving force is that they don't want to lose business from Lefties who want no one detained (even in a fancy hotel!) and they don't want their high-end patrons to have to mingle with the riffraff.
Forbes on Wednesday,
Major Hotel Franchises Decline To House Detained Migrants For ICE
Earlier this month the Trump administration announced that U.S. Immigration and Customs Enforcement (ICE) would carry out actions to detain undocumented immigrant families. The declaration drew protests from around the country, and one cohort that pushed back notably was the hotel industry, including some massive hotel franchises.


As long as I've been blogging (12 years) Bill Marriott (net worth 2.7 billion) has been pushing for more cheap migrant and refugee laborers to service his hotel empire.


Marriott, Hilton, Choice Hotels, Best Western, Wyndham, Hyatt, IHG and MGM Resorts***all released statements saying they don't want their hotels used to detain migrants, according to a report from the Associated Press.
So now who is breaking up families?
Hotels are sometimes used to house detained migrants before they are transported to detention centers or deported to their place of origin, ICE Director Matthew Albence told the AP. Not having them as a resource could lead to the further breakup of families, he added.
"If hotels or other places do not want to allow us to utilize that, they're almost forcing us into a situation where we're going to have to take one of the parents and put them in custody and separate them from the rest of their families."
[….]
Hotel giant Marriot, in a statement released July 11, said: "While we have no particular insights into whether the U.S. government is considering the use of hotels to aid in the situation at the border, Marriott has made the decision to decline any requests to use our hotels as detention facilities."
More here.
***The next time you make a hotel reservation check that list!