I think some of you in refugee overloaded states might like this news!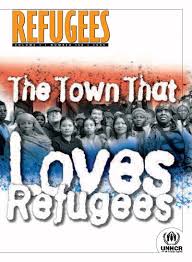 And, native New Yorkers might see this as a great time to pack up and head south for lower taxes and more pleasant weather (many have already!).
The State of New York is actively luring refugees from other states and officials there claim cities are dying and they need low wage workers (and more ethnic groceries and craft shops!) to stop the slow bleed from their decrepit cities.
And, who is going to pay for all of the 'services' New York state is offering refugees to move there (called secondary migration in the refugee industry).
No one has ever given me a good argument for why certain struggling cities can't just be left to die!
Check out one of my many posts at RRW on New York's dying cities, like Utica.


From the New York Times which takes the opportunity to whack the President,
Luring Refugees: N.Y. Cities Desperate for People Try a New Strategy
UTICA, N.Y. — Over the past few decades, as a manufacturing decline left homes vacant and storefronts dark, New York's upstate cities opened their doors to refugees. The influx, while modest, gave new life to neighborhoods, helped alleviate labor shortages and shored up city budgets.
But that rejuvenating bounce for cities such as Utica, Buffalo and Syracuse ended after the Trump administration drastically cut the number of refugees allowed into the country. New York received 1,281 refugees in the last fiscal year, compared with 5,026 just two years before, according to the State Department. Officials in those cities worried they had lost a small but important bulwark against population decline.
Now, some are testing out a new strategy: luring refugees who have settled in other parts of the United States to move to New York. They are advertising job placement, English language and housing services, hoping to draw enough people to offset the shortfall.
[….]
But as the pool of refugees shrinks under President Trump, New York has positioned itself to have an advantage over other places. Cuts in federal funding meant resettlement agencies in other parts of the country had to shrink or close.
In New York, the state stepped in and has been funding those agencies since 2017. They now can provide services to more refugees, an incentive for people to move to New York from elsewhere. [And, who pays for the services?—ed]


So how long do you think the 'new Americans' will allow Republican Picente and his type to stay in office once they have political power.


"If the message gets out that we have job opportunities, and it's a great place to raise a family, that's what we want," said Anthony Picente, the Oneida County executive, a Republican whose county includes Utica. "That is the message we are moving out there."
[….]
"Why are we capping the legal point of entry unless we can't handle them, and no one is saying we can't handle them?" Mr. Picente said.
[….]
Since assuming office, Mr. Trump has sharply reduced the number of refugees. The cap was set at 30,000 this fiscal year, down from 110,000 in the last fiscal year of the Obama administration. It is the lowest ceiling a president has ever placed on refugee admissions.
Bipartisan appeal because the Republican Chamber of Commerce types want the cheap labor!
In an era when immigration policy has drawn sharp political lines throughout the country, enticing refugees to New York has held bipartisan local appeal.
[….]
Between 1950 and 2000, Rochester and Syracuse lost roughly 30 percent of their populations, Utica lost about 40 percent of inhabitants and Buffalo lost half its residents, according to the New York State comptroller's office. Buffalo's decline was the fourth highest nationwide.
But as refugees moved into abandoned homes and leased empty storefronts, deserted neighborhoods in these cities started to transform — although these towns have not seen enough growth to reach population numbers of nearly 70 years ago.
Oh joy! Ethnic supermarkets and trinket shops!
Today, Buffalo's Grant Street, which was once near vacant, bustles with supermarkets and craft stores that serve many of the immigrants who have moved into the surrounding neighborhood. The street's West Side Bazaar, a popular lunch and shopping spot, is filled with vendors who sell hand-woven tapestries and beaded jewelry, while the smell of Ethiopian spices and Malaysian ramen from its food court waft through the room.
[….]
The effort to draw more people to New York includes an advertising campaign targeted toward the Facebook groups, WhatsApp chats and newspapers that are run by refugees, who officials hope will spread the word in their communities. One resettlement agency, the International Institute of Buffalo, created a recruitment video that features picturesque rows of houses dotted with fall foliage and residents boasting about the city.
NY stealing bodies from PA!
Abdiwahab Awayle, 36, first moved to Erie, Pa., in 2017 from a refugee camp in Kenya. But after three months he stopped receiving government help to learn English and to find a job.
"I make more money now. I can take better care of my family, and now I am telling my friends in Pennsylvania they need to come here," said Mr. Awayle, who now works in a retail store outside the city.
There is much more here.
You might want to see the UN report published in 2005 that said the refugees had saved Utica.
The report was employed as part of a propaganda campaign to convince other cities that they could stop the population "hemorrhage" by welcoming migrants of all stripes.  But, you tell me how does importing poverty help a city?
One way—-the presence of poverty (low income workers) brings FEDERAL tax dollars to the city and state! It is simply a redistribution of wealth!
Remember! Nancy Pelosi once famously said that food stamps stimulate local economies!