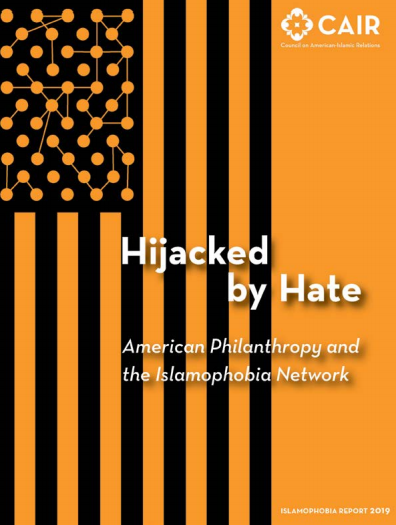 Released this week, the Council on American Islamic Relations report contends that over a thousand foundations (listed in the appendix) fund a vast array of organizations who hate Muslims (they say).
Of course my first thought was, well who funded this report endorsed by the disgraced Southern Poverty Law Center and who funds CAIR?
And, my second thought was that if there is so much money sloshing around in the "Islamophobia Network," why haven't I seen any of it?
I know a lot of citizen volunteers/writers working on educating America about political Islam who work for zip, zero, nada!
Hey, rich foundations! I am over here! (Donation button in right hand side bar!)
Thanks to a reader for sending me the news.

Here is what NPR says about the report,
Mainstream Charities Are Unwittingly Funding Anti-Muslim Hate Groups, Report Says
The nation's largest Muslim civil rights and advocacy organization says that charitable foundations, mostly mainstream, are directly and indirectly giving millions of dollars to anti-Muslim hate groups.


Ms. Heidi (SPLC), an endorser of  CAIR's report, is responsible for the SPLC's anti-Muslim extremist list that included yours truly. A lawsuit subsequently forced them to remove her discredited research from their website.


The Council on American-Islamic Relations looked at the money trail from 2014 to 2016 from over 1,000 largely mainstream charities to 39 anti-Muslim groups that it calls the "Islamophobia Network."The report, called "Hijacked by Hate," was released Monday. It found that nearly $125 million was funneled to these groups. That includes money that was anonymously given through the charitable foundations of wealth management groups like Fidelity Charitable and Schwab.
The hate groups benefiting include ACT for America, the largest anti-Muslim group in the country and a registered nonprofit.The group is described by the Anti-Defamation League as an organization that stokes "irrational fear of Muslims."
Others, like CAIR, call it a hate group for its spreading of misinformation about Islam and fearmongering around the principles Muslims live by.
"Traditional charities and foundations — commercial foundations, community organizations, community foundations, religious foundations — these foundations in philanthropy that make America what it is have been undermined," said Abbas Barzegar, director of research and advocacy at CAIR. "[They are being] used, or in my mind exploited, to funnel anonymous money from wealthy donors to the Islamophobia Network."
If you are in store for a rainy weekend where you live, snuggle up with this report and let me know if you find any juicy nuggets worth sharing.  
This post is filed in my 'Charity fraud' category where you will find more posts on CAIR and the Southern Poverty Law Center.