What the heck is going on in Alexandria, Louisiana?  Just yesterday we gave you an update of a Middle Easterner ripping off Medicaid there and now comes news via Creeping Sharia that another man who appears to be of Middle Eastern ethnicity is in big time trouble with the law on two fronts.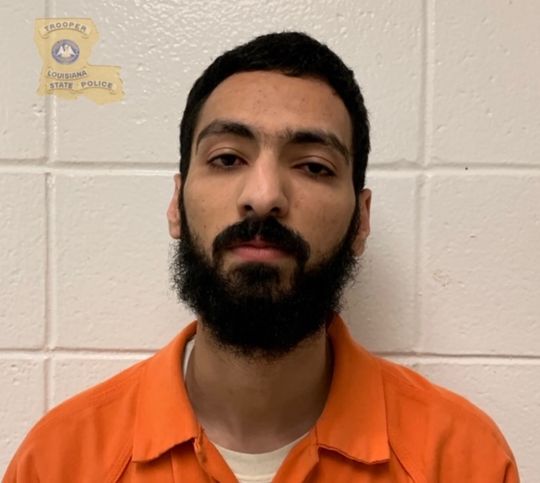 The alleged perpetrator of two crimes, Mohammad Z. Abudayeh, is 25-years-old and already owns a convenience store.
I hope federal investigators are going beyond just busting food stamp fraud and are trying to figure out where the money is coming from that allows new American creeps like this to invest in stores I believe for the sole purpose of scamming us—infidel taxpayers!

Here is some of the news from Town Talk (part of the USA Today network),
Alexandria attempted feticide suspect accused of fraud, racketeering
An Alexandria man, already in jail for allegedly trying to kill his girlfriend's unborn baby, now stands accused of racketeering, more than $1 million in food-stamp fraud and more.
Rapides Parish District Attorney Phillip Terrell announced the March 14 arrest of 25-year-old Mohammad Z. Abudayeh at a Wednesday morning press conference.
"The reason this is so important to the people of our parish, the people of our state, is because the taxpayers deserve to not have people steal the benefits that are meant for people who are less fortunate, the people who really deserve them," said Terrell as he was surrounded by investigators from his office, Louisiana State Police and the Department of Children and Family Services.
"Additionally, certainly, stealing from poor people, in our minds, is about as low as you can get."
Abudayeh remains in the Rapides Parish Detention Center on the new charges of unauthorized use of supplemental nutrition assistance program (SNAP) benefits, computer fraud, bank fraud, money laundering and racketeering.
Continue reading here.  Learn how he allegedly sought to terminate his girlfriend's pregnancy.
Of usual there is ZERO mention of Mohammad's nationality or immigration status.
This story should be in front of the entire country, but it won't be, so you need to get it out through your networks.