Invest a few hours this weekend and watch the MyPillow Guy's documentary about how the 2020 Election was stolen.
You may have seen some of the information in bits and pieces in the weeks following the disaster for America, but Lindell puts all the facts together as he interviews important experts on election fraud.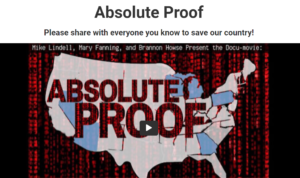 I watched at The New American (apparently Youtube quickly removed it).
You can also see it at Lindell's own website.
From The New American:
WATCH: My Pillow CEO Mike Lindell Releases Documentary on Election Steal
Unstoppable. Irrepressible. On-fire. Passionate. Mike Lindell is on a mission and he's not going to let the cancel culture censors at Big Tech, Big Media, or Big Business — or even his "friends" at Newsmax and Fox — stop him. Today, Friday, February 5, he has released his three-hour documentary, "Absolute Proof," which he says shows "100 percent" the theft of our election by China and other countries.
More here and to see the documentary.
"Unstoppable. Irrepressible!"  That is what you have to be now as well! Imagine the pressure Lindell is getting and all you have to do is to not shut up!
Talk to everyone you know. Keep spreading the word. That is your job!
Changing the subject….
While you are watching videos, check out this interview by The New American's Alex Newman while it lasts at Youtube. It is about weaponizing the China virus ….
See it here if Youtube removes it!