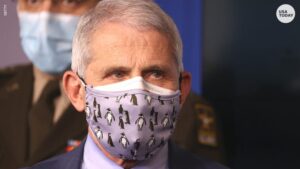 I'm not picking on Stacey Griffith per se, because you know there are others like her who have been so freaked out by Dr. Fauci (and Chairman Joe) that they are willing to push grannies out of the way in order to get an experimental vaccine.
It really is amazing how powerful herd mentality can be.
Snagging the vaccine appears to be the new craze for the Lefties.
President Trump was criticized for trying to keep Americans calm about the pandemic, but now the Fauci (Biden) frenzy is unleashed and has gone into high gear.
From Yahoo Life:
SoulCycle instructor apologizes for getting COVID-19 vaccine, which sparked backlash
A star instructor for the trendy cycling workout brand SoulCycle is backpedaling after being criticized for getting the COVID-19 vaccine under the pretense of being a teacher.

https://www.twoturnsfromzero.com/

On Friday, Stacey Griffith — a top fitness coach in New York City who, according to a recent Vox report, makes at least $800 per class — shared footage from her trip to Staten Island to get the Moderna vaccine.

"Now I can teach @SoulCycle with a little more faith that we're all gonna be OK if we get the [vaccine]," Griffith, whose celebrity clients have included Kelly Ripa and Madonna, told her 64,000 followers on Instagram.

It didn't take long for many of those followers to chide the 52-year-old author of Two Turns from Zero for bypassing elderly and high-risk individuals who have yet to be vaccinated.

"Let's celebrate that we are making the world safe for in-person spin class in the midst of a global pandemic," read one comment, from a woman who shared that she and her wife, a cancer patient, were still months away from being eligible for their own shots. "What's left of any respect that I had for Soul and the leaders it celebrates is done and gone."
There is more if you feel like reading it.
UK Daily Mail had a lot of fun with the story yesterday.  See here.