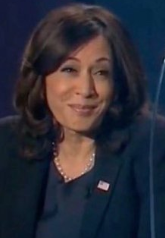 Why do Democrat women have to look so smug and sound so snarky? 
I watched some of the debate last night between the calm and unflappable Vice President Mike Pence and Joe Biden's running mate Senator Kamala Harris, but couldn't bare it at about 30 minutes in, concluding that….
….I do not want to look at that smug face for 4 years!
It is the same gut reaction I had to Hillary's face.
Clearly 'the face' got lots of reactions as The Hill reported in a story about it.
Kamala Harris's facial expressions during debate go viral
But, believe it or not, the Lefties loved it, saying her facial expressions were the best part of the debate for many. (I guess they didn't have much else to be happy about.)
From Mashable:
Kamala Harris' reactions to Mike Pence at the VP debate are all you need to see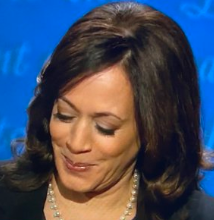 They  loved this look!
You know who else likely loved the giggly girl look—Putin and Xi Jinping.
The reaction on the Left to Kamala's face makes it clear. There is never going to be a coming together, a reach across the aisle moment for America ever!
So, as Rush has said for years, they must be defeated.