Every day it gets worse.  And, for anyone considering voting for good ol' Joe thinking the country might calm down for awhile afterward, forget it!
There will be years of investigations into the Biden crime family and their circle of beneficiaries and apologists.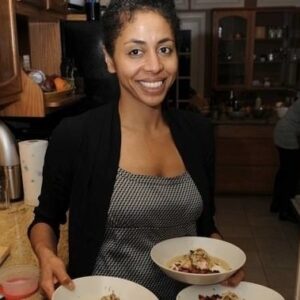 Yesterday 'Sundance' at the Conservative Tree House informed us that Anna (Anya Adeola ) Makanju, Facebooks Election Integrity Watch dog, formerly worked as an adviser to Veep Joe Biden!  Hat tip: Cathy.
She advised him on Europe and Eurasia apparently along with her role as a senior adviser to eeek! Samantha Power.
(If you have forgotten the foreign-born George Soros protege Power, see my many posts on her at RRW where she, Hillary and Susan Rice had been dubbed the "Humanitarian Vulcans" in the Obama White House. Those peace-loving humanitarians conspired to violently bring down the Libyan government which of course ultimately precipitated a massive wave of migrants that are still flowing to Europe.)
This from Makanju's bio at the Atlantic Council:
She is a public policy and legal expert working at Facebook, where she leads efforts to ensure election integrity on the platform. Previously, she was the special policy adviser for Europe and Eurasia to former US Vice President Joe Biden, senior policy adviser to Ambassador Samantha Power at the United States Mission to the United Nations.
She was a Paul and Daisy Soros New Americans Fellowship recipient with another bio here, which included this: "She also was the Director for Russia at the National Security Council."  (Paul Soros was George Soros' older brother.)
You know that people like Samantha Power and Anna/Anya Makanju are waiting in the wings to return to the seat of power should Harris/Biden (with Facebook's help) be triumphant in November or December or whenever this election from hell ends.